Story by Andy Argyrakis
Photos by Terry Mayer

To children of the 1970s and 80s, comeback tours by The Police, Genesis and Van Halen are undoubtedly this year's most coveted, though anyone who grew up in the 1990s is likely gravitating towards the Rage Against the Machine reunion as a top ticket choice. Considering the group is staging an extremely limited run of headlining shows and a handful of festivals this year, the 30,000 plus seat Alpine Valley Music Theatre was packed to the brim, signaling one of the most scalding and all around explosive alternative rock rampages in recent memory.

Faithful fans (who literally flocked from all across America given the mere handful of dates on the books) added gasoline to the fire before the band even took the stage, wildly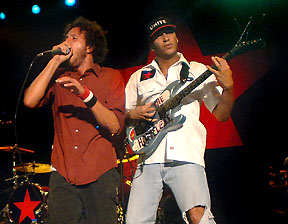 chanting "Rage, Rage" and preparing the mosh pits for some serious body slamming. Rather than being restricted by seats, several rows were removed for a standing room only section, while the lawn was overflowing with like minded patrons. And when the foursome finally appeared with the menacing "Testify" to launch its blistering 90-minute set, the result was pure mayhem with fists pumping at lightening speed and bodies being thrust throughout a dizzying crowd surf.

Despite previous personal tensions and creative differences, front man Zack de la Rocha fit like hand in glove alongside guitarist Tom Morello, drummer Brad Wilk and bassist Tim Commerford, who all remain a tightly oiled unit given their time in Audioslave during the Rage hiatus. Despite the success of that now defunct offshoot project, it's apparent these four musicians belong together, not only because their chemistry melds an ambitious amalgamation of rap and hard rock, but the political urgency the ensuring lyrics hold.

"People of the Sun" and "Bombtrack" were instantaneous examples of the band's assessments on injustice and inequality no matter what the geographic region, while connecting with such a scorching rhythm section it's a miracle they didn't short circuit the sound system's already overpowering volumes. The highly active front man paced the stage like a caged animal just released into captive, urging attendees to "Wake Up" and rise above racism and corrupt authority.

The latter portion may have steered towards the left-winged direction, but even the most conservative concertgoer couldn't deny the instrumental anarchy of the equally pummeling "Bullet In The Head" or "Killing In the Name," which remain just as vital, despite the decade and a half since Rage's peak of fame. Obviously this tour has given the gang a considerable jumpstart, though hopefully members will continue to put aside differences long enough to head into the studio, which would be the final test to pass in an otherwise glitch-free return.