Review and photos by Mary Andrews

The Braun Brothers along with Cody Canada brought plenty of swagger and attitude with their brand of Texas music with their "Livers of Steel" tour. These country rockers should be more widely known outside of Texas than they are. The four show started with Cody Canada and the Departed. Cody was the frontman for Cross Canadian Ragweed (CCR) for 16 years, which formed in Stillwater, OK, but had long been one of the biggest draws on the Texas music scene. CCR disbanded in 2010. After taking some time off, Canada and Jeremy Plato became involved with the four-piece band, The Departed. Chris Doege, drummer, and Steve Littleton, keyboards, are the remaining two members of the band. The show started with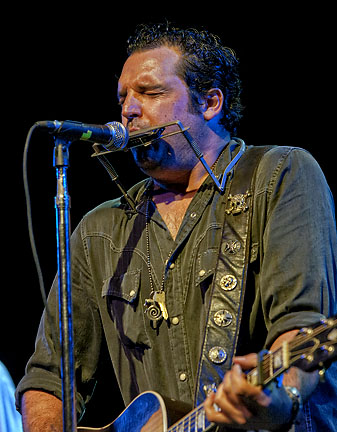 a bang. Cody and the band delivered a solid, rockin' set of Canada's self-penned songs. Micky Braun of Micky and the Motorcars joined the band as though he was a member of the band for several songs.

There was a seamless connection from one band to the next. New band members would appear on stage and after a song or two, old members would disappear. It was a free flowing movement of band members during the show. Micky and the Motorcars consists of Micky Braun (acoustic guitar, lead vocals), Gary Braun (lead & harmony vocals, guitars, mandolin, harmonica), Dustin Schaefer (lead guitar), Joe Fladger (bass), and Bobby Paugh (drums & percussion). Micky and Gary Braun are the younger brothers of Reckless Kelly's Willy and Cody Braun. Micky's set was high energy all the way with crowd favorites, "Rock Springs to Cheyenne," and "Big Casino." Brother Willy joined him for "Big Casino" and stayed for the rest of the Motorcars set.

Reckless Kelly quietly slid into their own set with "Nobody's Girl" and they were off and running! Willy sings lead and plays guitar and Cody plays fiddle, mandolin, harmonica, and anything else he wants to play. The rest of the band members are David Abeyta (lead guitar, vocals), Jay Nazz (Nazziola) (drums), and Joe Miller (bass). All of the band members displayed their outstanding skills throughout the show. It was obvious that Reckless Kelly was there to entertain and entertain they did non-stop!

Texas music took a huge leap in popularity when Willie Nelson made the move from Nashville to Austin, TX forty years ago. It started with the Outlaw movement and has burst in popularity. The old timers Willie, Merle, Jerry Jeff, Waylon, Billie Joe, and many others have reached legendary status. Some of these legends are gone (not forgotten) and some are slowing down. The music has evolved over the years to a more rock-based format in answer to public demand. Who will be the next legendary Texas musicians? Bands like Reckless Kelly, Micky & the Motorcars, and The Departed are working long and hard to get there!