Story and photos by Andy Argyrakis

At the peak of Weezer's initial fame, co-founding bassist Matt Sharp broke his full time band's "blue album" formula for a deeper exploration of new wave via his side project The Rentals. The group's cheekily titled debut Return of the Rentals (Maverick) was laden with Moog synthesizers and male/female harmonies, leading to tours with Blur, Garbage and Red Hot Chili Peppers to name a few. But Sharp turned back to his original band for its equally seminal Pinkerton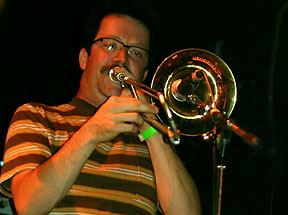 (DGC) in 1996, followed by an exhaustive tour and full-time membership for the next two years. However, The Rentals' bug quickly came back after the whirlwind outing and he officially parted ways with Weezer in favor of the sophomore CD Seven More Minutes (Maverick)..

Though previous fans caught on with that second installment, the record didn't sell nearly as well as the first, sending Sharp into a cycle of seclusion and then a quiet round of solo touring. The silence ceased on the ten year anniversary of The Rentals' first CD, the front man announced he was putting the band back together, which manifested itself in a 2006 tour and hitting the studio for a new EP. The night of this particular show marked street date for The Last Little Life (Boompa), which the band promoted with great excitement, while simultaneously proving there were still some kinks to work out. The group started out strong via the contagious lead cut to its freshman effort "The Love I'm Searching For," with Sharp jumping in the crowd as his six backers beamed with a mixture of surf-inspired synths and surging harmonies.

Hints of that momentum carried into that same project's "Naive" and "Please Let That Be You," but quickly took a turn for the worse due to less hooks and a more organic direction. The new "Little Bit of You in Everything" lacked the infectiousness of even Weezer on its worst day, while centering around a carefree dance frolic that almost bordered on foolishness. A significantly overhauled version of "Sweetness and Tenderness" leaned heavily on the rhythm section (most reminiscent of The Decemberists' current direction), though it lacked the tightness and insistency of that band in favor of a free flowing (and occasionally clumsy) jam session. Instead the band was much better off sticking to the purebred electronic pop of "Friends of P.," an obvious crest in the generally pleasant but far from overwhelming return that never quite matched the might of Sharp's prior geek rock pioneers.