Review and photos by Frances Sealy

If you were expecting collaboration between Rickie Lee Jones and Madeleine Peyroux, there will be some disappointment. The evening was split between these two great artists and could have easily been on two separate evenings. Sadly there were no duets on this particular evening. That said, each set was a representation of what made the performers who they are.

The first set was Rickie. She played guitar while band mates consisted of Cliff Hines on electric guitar and Mike Dillon on drums and percussion. Kudos go to Cliff and Mike. They were perfection. This was a "pin-drop" performance. Every nuance in Rickie's voice was present and time has been good to her.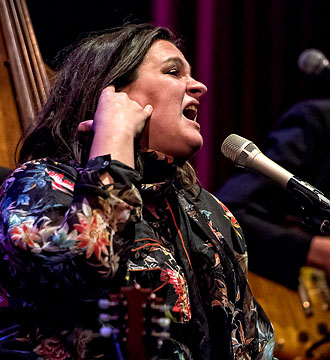 She gave stirring renditions of "Last Chance Texaco," "Weasel and the White Boys Cool," "Pirates," and "Chuck E's In Love." It seems that she had an attraction to 'bad boys' in her early days. Her writing paints pictures that are easily compared to Dylan, Springsteen, or Waits.

Rickie revealed early in the show that she had grown up in Phoenix. She added, "Phoenix is a different place now." Her earlier works seem to draw from her experiences in Arizona. Much of "Last Chance Texaco" portrays visions from Arizona. She revealed she still maintains mental visions of Horney toads, the call of doves, and magnificent cloud formations when she thinks of Arizona.

Madeleine Peyroux followed with another outstanding set for the evening. Ms. Peyroux came to national attention with her first solo albums, Dreamland and Careless Love 20 years ago. She has only recorded seven solo albums during that time. Her voice is very reminiscent of Billie Holiday at times and she knows how to manipulate her instrument very well.

Guitarist Jon Herington and bassist Barak Mori joined her for this tour. Both gave outstanding performances. Ms. Peyroux played ukulele and acoustic guitar. The arrangements were a perfect showcase for her voice. Peyroux's voice totally conveys every song's emotions. Whether she sings the blues or jazz, she easily takes the audience on that emotional journey with her. Tonight, her versions of Willie Dixon's "If The Sea Was Whiskey," Allen Toussaint's "Everything I Do 'Gohn' Be Funky (From Now On)," and Sister Rosetta Thorpe's "Shout Sister Shout" were performed from her recent CD release, Secular Songs. Peyroux dished up lots of the old familiar, favorite tunes such as "Guilty," " Careless Love," and "Dance Me to the End of Love." Madeleine was also very congenial with the fans. She had a repertoire of jokes that seemed to be missing in her shows in the past. She performed the Beatles tune, "Getting Better," that she remarked was cheeriest song of the evening.

The show was a rich feast of incredible talent seldom experienced live. Tucson is ready for the return of these great artists.