Story by Brad Walseth
Photos by James Walker, Jr. (JW), John Broughton (JB), Bryan Thompson (BT) and Brad Walseth (BW) - copyright 2009
Videos by John Broughton - copyright 2009

After enduring one of the chilliest summers in recent history, jazz fans of all ages attending the 2009 edition of the Chicago Jazz Festival were granted glorious sunshine for nearly the entire week of festivities. And despite the sound issues that accompany an outdoor festival, attendees were treated to a cornucopia of jazz sounds as provided by a wide range of talented artists from across the full spectrum.

The week started off with the Jazz Institute's Gala concert tribute to Michelle Obama as composed and performed by Nicole Mitchell. Mitchell - one of the finest composers on the scene - did double duty - also leading her Black Earth Ensemble through an exceptional set on the Jackson Street stage later in the week. The Jazz Institute's club tour was expanded this year and again gave people the opportunity to sample the scene at a number of Chicago jazz establishments. Thursday night's final Made in Chicago concert at the Pritzker Pavillion at Millenium Park ended a stellar series with a tribute to Chicago favorite son, Benny Goodman, with veteran clarinetist Buddy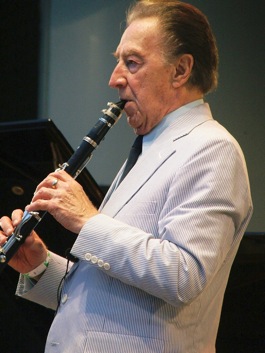 DeFranco joining the Chicago Jazz Ensemble to finish up the season with a bang.
The Jazz Fest proper began on a sad note - with the news that beloved local drummer Ernie Adams - perhaps the hardest working musician in town - had taken ill (get well soon, Ernie!!!). With Ernie's scheduled bandmate - alto madman Richie Cole trapped by fires in L.A. and also unable to attend, a band led by trumpeter Orbert Davis and featuring guitarist Henry Johnson, drummer Greg Rockingham and bassist Stewart Miller opened the fest in fine fashion. As the fellow standing next to me said: "not bad for a pick-up band."
While the new and quite popular Chicago Community Trust Young Lions Stage featured the best young high-school age talent paired with veterans like Ari Brown, Mark Colby and Junior Mance, the Jackson Street stage continued its reputation as the "hot" stage. Greg Ward's Fitted Shards, Fareed Haque's Flat Earth Ensemble, the Dan Cray Trio with Geof Bradfield, the Chicago Afro Latin Jazz Ensemble and the aforementioned Nicole Mitchell all put on high energy sets, while young superstar Esperanza Spalding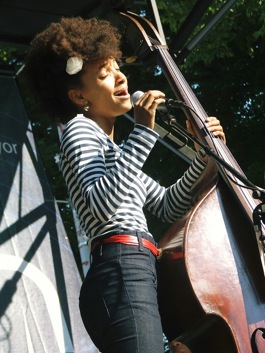 - fresh off her David Letterman appearance - packed Jackson Street for her pleasing set.
Jackson Street also featured solo piano from Chicago favorites Yoko Noge and Ben Patterson, and thought-provoking sets by vibraphonist Jason Adasiewicz' Rolldown and clarinetist James Falzone's KLANG. And the legendary Von Freeman led a crowd-pleasing jam session. But perhaps the most surprising concert was led by Von's guitarist - Mike Allemnna - whose gospel-vocal Come Sunday contingent led off appropriately Sunday morning with a bushel-full of good cheer.
The Jazz and Heritage Stage is sometimes shortchanged as the "educational" venue (and indeed, the popular percussion discussions and art of the solo discussions with Art Burton and William Parker respectively were well-attended), but it's shady confines provided plenty of heat from several excellent groups. Young saxophonist Kevin Nabors led his quintet - including trumpet star Corey Wilkes, guitarist Scott Hesse bassist Junius Paul and drummer Isaiah Spencer through a fiery set. Great to see this young man taking strides as a player and leader. Alto saxman Dudley Owens also scored with a great, high-octane session featuring David Young on trumpet and the incredible Keith Javors on piano. Violinist Diane Delin and the underrated and highly talented Kelly Brand Quartet - a personal favorite - were also featured on this stage, as was the ever-popular Eric Schneider - who packed the area with fans.
This would be more than enough talent for any jazz fan, but we have yet to touch on the amazing amount of musical magic that appeared on the main (Petrillo) stage. Friday night began with a highly enjoyable set from Chicago's own Jeff Parker. The guitarist - who often engages in left-of-center tangents - was backed by keyboardist Pete Benson (Sabertooth), saxophonist Scott Burns and drummer George Fludas and played a hot straight-ahead set.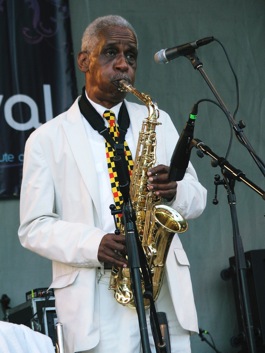 Next up was The Trio - a take-no-prisoners avant group featuring composer in residence and pianist Muhal Richard Abrams, saxophonist Roscoe Mitchell and trombonist George Lewis in a full-frontal sonic assault on the audience. Although not everyone's cup of tea, the majority of the crowd remained seated and even gave these avant garde pioneers a standing ovation. In a bid for presenting a kaleidoscopic musical experience, folk/blues chanteuse Madeleine Peyroux was up next and gave the crowd a pleasant, albeit not real jazzy, set. The evening ended with fireworks as Gonzalo Rubalcaba brought his innovative Cuban-based music to the stage.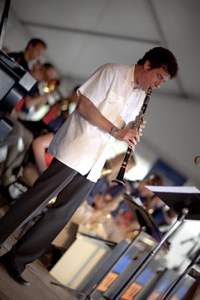 Saturday's mainstage fun began with an impressive set from veteran saxophonist and Velvet Lounge club owner Fred Anderson. Backed by drummer Hamid Drake and bassist Josh Abrams, Fred - who was a bebop player before becoming immersed in the avant garde scene - played some of the most beautiful and melodic playing I have heard from the jazz legend on this memorable concert. Amina Figarova'a sextet was up next and put on another one of the highlights of the fest with an energetic display. This is a talented group that you should be aware of.
The evening continued with plenty of combustible energy as bassist William Parker brought his ensemble to the stage for a delicious rendering of the songs of the late great Chicago R&B star Curtis Mayfield. With lovely singer/dancer Leena Conquest gyrating, revolutionary poet Amiri Baraka providing spoken word over the incendiary music and the crowd singing along to favorites like "Freddie's Dead," "We People Who Are Darker Than Blue" and "It's Alright," this set offered a tough act to follow. Fortunately, the Dave Holland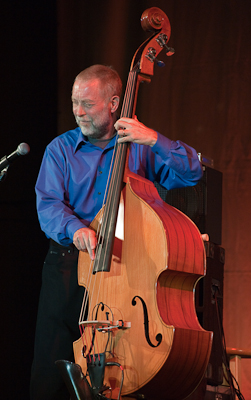 Big Band was more than equal to the task. The veteran bassist led an extremely talented group through some hard-charging numbers that - despite the limitations of the sound system - displayed Holland's use of colors in his big band arrangements. Great solos by Holland, alto saxohonist Jaleel Shaw, tenor saxman Chris Potter and Holland himself brought this evening to a wonderful conclusion
The final performances on Sunday night at the Petrillo included an enjoyable set from Archie Shepp that veered into blues, followed by Buddy DeFranco's tribute to Art Tatum: both were solid. Chicago's reigning queen of jazz vocals, Ms. Dee Alexander came on in yet another stunningly beautiful dress and she and her group did Chicago up proud with selections from her latest album - "Wild is the Wind." The festival closed with a challenging composition by Muhal Richard Abrams that showcased Ari Brown, George Lewis and Harrison Bankhead in extended solo spots in front of the Art Hoyle Orchestra.
The Jazz Institute and the City of Chicago and all of those involved deserve a big hand for producing yet another exciting free festival.

The article first appeared in JazzChicago.net. Check out great Chicago jazz happenings there.