Story and photos by Andy Argyrakis

After five years in between proper studio albums, Rush returned to the road supporting Snakes & Arrows (Atlantic), an album of gargantuan prog rock proportions, steeped in mythical and sometimes spiritual lyricism. It's a formula the legendary Canadian band's tapped numerous times before throughout three decades together, but connected with much more relevance at a Marcus Amphitheatre appearance than many recent tours.

The audience was split between old timers and teenagers alike, the latter of whom probably either gleaned interest from their parents or current alternative rock radio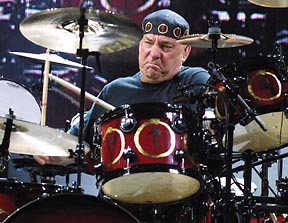 (where bands like Coheed & Cambria and Porcupine Tree have subtly borrowed from Rush and counterparts like Yes and King Crimson). Yet singer/bassist/keyboardist Geddy Lee, guitarist Alex Lifeson and drummer Neil Peart refused to turn its marathon three hour set into a pure trip down memory lane, instead flipping to the majority of the new album and its supernatural elements.

Album opener "Far Cry" stung with riveting percussion and fierce riffs, while telling a tale of the ever changing atmosphere and planetary shifts. It may have seemed a bit on the sci-fi side, but the band got back down to earth for "Armor and Sword" (which bore the continuous battle cries of "no one gets to their heaven without a fight"). The mixture of bluesy and tribal tones for "The Way the Wind Blows" aptly drove home its point about a world that's unfortunately locked in war. Of course, many major hits were present, from an early evening presentation of "Freewill" (complete with all of Lee's grand falsettos still in tact), the key-drenched "Subdivisions," the anthemic "The Spirit of Radio" and Rush's ultimate calling card "Tom Sawyer." All the while, the stage was lit up with a captivating live show that came quite close to rivaling Pink Floyd, thanks especially to a pair of green laser beams flanking each side of the stage.

However, one couldn't look at the action packed evening without finding several sheds of self-indulgence. Current tune "The Main Monkey Business" was a lengthy instrumental that shifted between an acoustic introduction and psychedelic jam sessions that dragged on for what seemed like eternity. And despite each member's obvious talent, incessant solo segments also became trying and tedious. It probably wasn't outrageous enough to turn the die-hards off, but those moments could've been omitted to streamline an already generous set that found Rush generally rocking to its fullest potential.