Story and photos by Matt Schwenke

Falling somewhere between the infectious grunge hooks of the Pixies and the effects washes of Sonic Youth, the Los Angeles-based Silversun Pickups brandish some compelling indie rock effrontery. Somewhat of an early success story with the advent of myspace.com getting the band's sound out among the masses and catching the interest of Dangerbird Records, Silversun Pickups came to Milwaukee with one of their most intriguing offerings,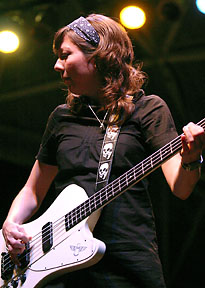 "Lazy Eye," getting heavy rotation on the recently revamped Miwaukee radio station, FM 102.1.

Lead by the androgynous vocal stylings and guitar distortions of Brian Aubert, bassist and vocalist Nikki Monninger provided catchy low end rhythms and occasionally sweet harmonies, while drummer Christopher Guanlao whirled up a rhythmic fury and keys/effects man Joe Lester added weight and depth to the sonic storm. Culling mostly from their debut full-length Carnavas, the band fired up quickly with "Well Thought Out Twinkles" demanding a fiery response from the crowd and "Little Lover's So Polite" slowly building up into a rage of effects. "Kissing Families," from the 2005 EP Pikul, began as an open and airy rock tune, anchored strongly by Monninger's bass and pulled to and fro by her hushed vocals contrasting with Aubert's hoarse-throated punk attack. "Three Seed" stirred up calmer waters with a slow and sexy bass line that became layered in sonic fuzz and offered up a smoother version of Aubert's vocals. The eerily building "Lazy Eye," which garnered the most cheers from the crowd, burst into a magnificent chaos of effects churning over powerful bass and drums. Darting about with energy all night, Aubert became slightly more possessed in the aforementioned tune and the energy hanging as the effects warbled on demanded an encore.

Aubert remarked the band was "extremely happy" to be playing Summerfest while on break from touring, and the crowd seemed happy too as Silversun Pickups pulled more early material from Pikul, delivering a thumping "...All the Go Inbetweens" and a snotty "Comeback Kid," before ending the night with Monninger's beautifully hushed voice giving way to thunderous thrashings in "Creation Lake."