Story and Photos By Andy Argyrakis

Anyone who mistakenly stumbled into the Riviera Theatre when the Scissor Sisters were in town might have mistaken the event as a highly decorated disco revival party. Attendees of all genders dressed in bright colors and feathered boas, the warm up DJ pumped out everything from the high haired Donna Summer to early Michael Jackson to "Street Player" by Chicago, while vibes of decadence and debauchery ran through the sold out venue.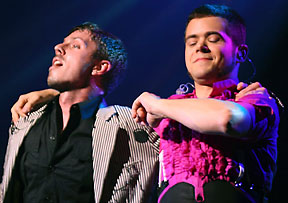 When the Scissor Sisters finally took the stage (that's four guys and one girl who share about as much relation to one another as the non-identical looking Thompson Twins) it felt like 1979 all over again.

The thumping cheer of opener "Paul McCartney" could've very well been the Bee Gees in their afro-drenched heyday, while front man Jake Shears sparkled in silver from head to toe, while casing the stage like a sequin-bearing Elton John. As the evening unfolded with several selections from the new Ta-Dah (Universal), those two influences were worn loud and proud almost to the point of being downright derivative, though the dirty elements of David Bowie and The Rolling Stones circa the 70s helped weave a somewhat unpredictable web.

"I Can't Decide" was another early inclusion that took a totally over the top presentation, hinting at the group's fascination with drag shows and burlesque. Though it would be several songs before Shears shed his shirt,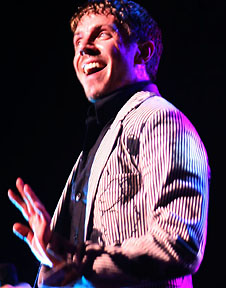 he demonstrated all out flamboyance on the lusty soul song "She's My Man," while co-vocalist Ana Matronic upped the theatrical ante come the funky throw down "Laura." The pair again referenced the Gibb brothers and offshoot acts from that time frame come "Lights," accenting one another with bubbly harmonies and impressive falsettos.

Despite fans' feverish reaction over every single song, the intrigue and ingenuity eventually wore off and later tunes rolled together. Campy can be cool as long as its used sparingly, though in the Scissor Sisters' case, it was pushed to the maximum threshold the entire evening. "Filthy Gorgeous" was one of the more ostentatious tunes, while Pink Floyd fans would've cringed at a club tinged cover of "Comfortably Numb." Again, no one gathered seemed to mind, almost salivating for the next outrageous display of gaudiness, glitz and kitsch, though such efforts bordered on contrived gimmickry. Even so, no one could slap the Sisters with a citation for solemness, and while members are merely a critical equivalent to "Saturday Night Fever," they're quickly becoming gods of guilty pleasure.