Story and photos by Andy Argyrakis

There are few possessions as coveted within the rock n' roll spectrum as the backstage pass, though Atlantic Records' rapidly rising alternative act Skillet gave ConcertLivewire the ultimate super sized version. Rather than merely dressing room access to a single show, front man/bassist John Cooper, keyboardist/vocalist Korey Cooper, guitarist Ben Kasica and drummer Lori Peters granted exclusive entrance into their entire existence for 24 hours, from taking the stage at Chicago's House of Blues, to chilling in back after the show, meeting fans out front, plus some after hours partying with heavy handed tour mates Flyleaf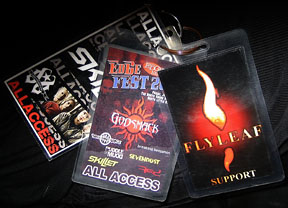 (who've since joined Korn and Evanescence on the Family Values Tour) and Dropping Daylight (a new piano pop outfit on Octone). From there, it was time to load up the tour bus for a glimpse at the unwinding process, not to mention waking up the next morning in Cincinnati, hitting the town throughout the afternoon and preparing for the show at Bogart's, one of Ohio's leading rock clubs.

Aside from being an enlightening (albeit exhausting) whirlwind, the trip also provided this particular critic with a closer look at one of today's most exciting and explosive acts. Thus far the Memphis-bred/Kenosha-based band's resume includes touring with Shinedown, Salvia and Finger Eleven (not to mention dates with Godsmack and Sevendust during the same week of this trip), while combining the remarkably ambitious blend of Nine Inch Nails-influenced industrial rock with flourishes of old school metal and even bits of progressive rock. As a result, the group's new CD Comatose (produced by Hinder hit maker Brian Howes at Chicago Recording Company) has already garnered the top 40 Billboard single "Whispers In the Dark" and the rapidly rising "The Older I Get," while paving the way for a full-fledged fall tour with hard rock superstars Breaking Benjamin, Three Days Grace and Seether. But before jumping too far into the future, here's more from the tightly packed timeline of literally spending 24/7 with Skillet in the summer of 07:

-7:35 p.m. (Central Standard Time) Monday/ The House of Blues Chicago is packed to the brim with screaming teens and twenty-somethings of varying fashion associations ready to rock as the curtain slowly rises.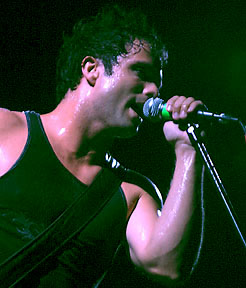 As Skillet steps on stage, a thousand-plus people scream in unison to an instrumental introduction before the band ramps into its recent radio single "Whispers In the Dark." Every word is sung by almost the entire crowd and singer John Cooper is drenched with sweat within seconds.

-7:48 p.m./ The band launches into its anti-suicide anthem "The Last Night," which also features keyboard player Korey Cooper stepping up to the microphone, mirroring Evanescence's Amy Lee, but with a much more melodic and memorable tone. She nails every note and also trades lines with John, signaling one of the current album's most inspiring cuts that also potently resonates with the crowd.

-7:52 p.m/ The fact that Q101 banners are draped across the entrances and merchandise areas inspires John to plug the band's current hit "The Older I Get" and rally fans to continue requesting the track at radio. It earns a hearty sing-a-long that falls somewhere between a Hinder power ballad and the softer side of Linkin Park, but packs more artistry than the former and additional infectiousness compared to the latter's recent lackluster spread.

-8:10 p.m./ Skillet's set hits the home stretch with the fellow electrified ballad "Yours To Hold," one the catchiest, hook heavy modern rock tracks in recent memory that also benefits from the crowd's karaoke effect.

-8:20 p.m./ The foursome gives its final bow to the ensuring fanfare, tossing guitar picks and sticks (met with mad dashes from catchers) before disappearing into the trenches.

-8:25 p.m./ It's up the four flights of stairs to the venue's posh dressing rooms, filled to the brink with random amenities, plus increase burning feverishly in the corner. But the surroundings take a backseat to the band toweling off, discussing the strengths of the overwhelmingly satisfying set and being greeted by a handful of close friends and family.

-8:35 p.m.-9:45 p.m./ Flyleaf takes the stage and garners the attention of everyone at the club, including some members of Skillet.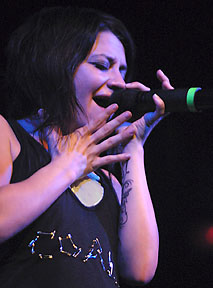 Lori in particular wants to catch the set, and following a quick change of clothes (adorned with a cap) she heads to the front of house with friends. (Interestingly enough, the incognito look allows her to wade through the crowd generally unrecognized). Ben eventually follows suit, while Korey splits her time between the front and back with pals from Chicago Recording Company. John skips out on the bulk of Flyleaf's set (though he's quick to throw out compliments about the band's incendiary live show) as his brother came to hang and catch up (a seemingly difficult task considering the band is almost always on the road).

-9:55 p.m./ After Flyleaf finishes its set (which includes the instantly recognizable hits "I'm So Sick," "Fully Alive" and "All Around Me"), its members head to the dressing room for some much deserved rest and relaxation. In turn, the newly rejuvenated Skillet cast heads to the merch booth under security escort to find over 300 fans flooding the area. Despite the watch of two bodyguards, the band is overwhelmingly swarmed with signature requests, and after twenty minutes of mealy, still never makes it to the T-shirt table.

-10:15 p.m./ Since it's an all ages show, bouncers are quick to keep the line (or rather random throngs of autograph seekers) moving right along. Though each member is gracious and cordial, they keep conversations brief and posed pictures to a minimum, but never once give off a rushed or impatient glance.

-10:30 p.m/ After the last few stragglers clear the aisles, it's time to head up the backstage stairs yet again for a short but sweet after party with the other bands on the tour.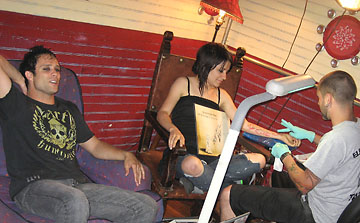 Tonight's festivities include a tattoo artist offering freebies to band members and John grabs a seat next to Flyleaf singer Lacey Mosley to chat about the touch ups he's going to request and a description of her design.

-11:15 p.m./ Tattoo time ends a little earlier than all would've likes in favor of bus call, which proves to be a mild bummer, though at least the chill time can continue tomorrow.

-11:45 p.m./ The buses officially pull out for the six hour drive to Cincinnati and band members embark upon a diverse swath of activities. Korey and Lori hit up iTunes to cruise for new songs, while Ben wades through over a thousand new MySpace posts. John stays focused on business via email, tracking the status of "The Older I Get" on the Billboard charts with his manager and discussing in-store and radio station appearances scheduled for later in the week.

-12:30 a.m./ Ben pops on the classic comedy Planes, Trains and Automobiles staring John Candy and Steve Martin. It's packed with enough punches to stop everyone dead in their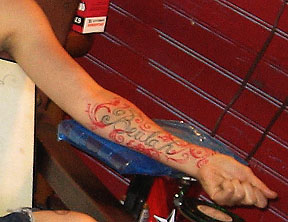 tracks and enough to keep the weary players awake for another hour's worth of laughs.

-2 a.m./ After band members trickle off to their bunks one by one, a few crew members continue flipping through satellite TV and video games, inspiring yours truly to hit the sack and not wake up until noon the next morning.

-12:30 p.m. (Eastern Standard Time) Tuesday/ Everyone slowly rises from slumber and crowds into two rooms at Cincinnati's Ramada Inn to take turns at a hot shower. As glamorous as the road appears (and truly is at times), even the simplest everyday tasks must be scheduled to stay on task.

-1 p.m./ Korey waits patiently for her turn inside, but rather than wasting time, she maintains her slim figure with a little weight lifting action. John also darts away from the bus for a jog to maintain his fitness level, which will come in handy during the strenuous show.

-2 p.m.- 3:30 p.m./ Following everybody getting squeaky clean, the bus pulls into Bogart's and crew members start unloading gear.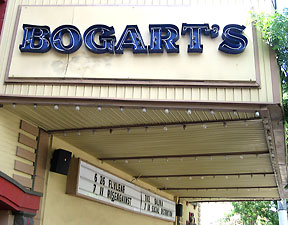 The group grabs some finger foods and splits into two separate shopping camps. Ben and Lori announce a route that includes a trip to an old school record store and an instrument exchange, along with some shopping for new clothes, so away we went. From browsing vinyl to goofing off with some Kayne West and Whitney Houston stand-up displays, the pair provided a great hang, though stars lit up in their eyes come various guitar and drum displays. But the pair is careful of the clock, swiftly returning back to Bogart's (with a few shopping bags in hand) for sound check.

-5 p.m./ With everything set at the club, Lori heads to a nearby pub for dinner to experience local faire with this trusty media sidekick at her side. The others are exploring various restaurants and reprising tasks from last night (such as more MySpace time from Ben). John actually steps outside the grounds for a meeting with his bass endorsement company, going over new makes and models for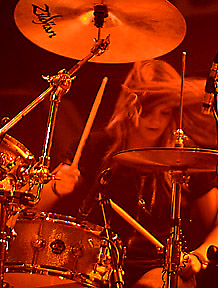 future usage.

-6:45 p.m.- 8:25 p.m./ All parties converge on the backstage of Bogart's and spend time autographing various items for contest giveaways (including a drum head to be thrown out to the crowd at the end of the set). The pre-show period also allows enough time for make-up application (both genders liberally apply eyeliner), plus fine tunings with in-ear monitors and writing out a mostly similar set list from the night before.

-8:30 p.m./ The band's tour manager announces it's five minutes until showtime and everyone gets pumped up via last minute stretches and jumps to get the blood flowing. With a platoon of flashlights leading the way and a security guard bringing up the rear, the foursome gets situated in the shadows of the stage, ready at any moment to lunge into center spotlight.

-8:35 p.m./ The riveting instrumental opening cues up, the crowd goes crazy once again and a handful of body surfers start their ascent. Lori's drums could almost shatter the sound barrier, Ben's guitars grind with muscular reflexes, Korey pounds out chilling keyboard chords as John charismatically launches into the pulsating bass beats and resplendent vocals of "Whispers In the Dark." And in total deja vu-like fashion, every word is sung by almost the entire crowd, the singer is drenched with sweat within seconds and yesterday's become a mere memory in favor of today's raucous sonic roller coaster, setting Skillet's wheels in motion until the action starts all over again the very next night...