Story and photos by Andy Argyrakis

With appearances together in "Three Amigos" and "Father of the Bride," Steve Martin and Martin Short have plenty of chemistry when it comes to killer comedic duos. Billed as "A Very Stupid Conversation" as part of TBS' "Just For Laughs" festival, the funny men took to the sold out Chicago Theatre's intimate settings for plenty of storytelling, mutual ribbing and even some bits of banjos (which reflected Martin's 2009's Grammy-winning bluegrass sidesteps).

So what exactly did "A Wild and Crazy Guy" cover with Franck the wedding coordinator from "Father"? Surprisingly (and unfortunately) neither of those skits or many other small and silver screen classics, but instead an opening segment that found the two stars interviewing each other. Though they each had prepared questions about each other's rise to fame, the pair quickly steered off course to talk about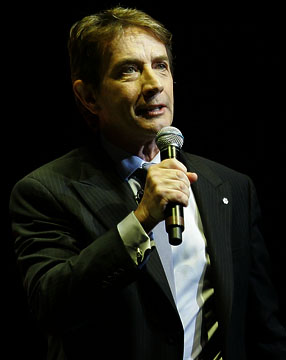 their infamous Scrabble games of the set of "Three Amigos" (when Short said to Martin "I'll let you ball my wife for a 'Q' or an 'E'") or each of their odd run-ins with other celebrities (like Short angering Frank Sinatra over a misheard drink order and Martin looking at Elvis Presley's gun collection backstage in Las Vegas).

The randomness continued at full tilt with several musical interludes, including Short's parody of Elton John's "Candle In the Wind" ("Bastard In the Sand") and Martin's more straight-forward in comparison bluegrass romp "The Great Remember." After the songs, Short dawned his Jiminy Glick fat suit and started a new "interview" with Martin that turned out to be an intentionally one-sided ego trip, all while chowing down a stack of doughnuts.

Slapstick aside, the guys turned serious (somewhat) for the audience participation portion, which found fans asking everything from the down right ridiculous ("Steve, why didn't you say 'hello' to me when we passed each other on the sidewalk in New York?") to intelligent ("Martin, I loved you in 'Clifford,' but was wondering why you feel it didn't do so well at the box office?") For the latter, Martin explained the studio went bankrupt right around the time of release, while Steve without skipping a beat asked "was it because of 'Clifford'?"

After offering advice to aspiring actors (Martin said to simply "be so good they can't ignore you" while Short assured to "never take rejection personally"), Martin handed Short some sheet music for a quickly scribbled finale. With banjo in hand, he forced Short to sing his praises, but he quickly got fed up and called Martin an "ass with an 'o' at the end." The crowd absolutely erupted and it served as just another example that even without a script, their improvisational abilities remain red hot.