Story and photos by Andy Argyrakis

As a twenty-five year veteran with over 62 million albums sold and 54 chart-topping songs, George Strait doesn't need to rely on production frills, fancy outfits or outrageous behavior to sell out an arena. All he has to do is put on a pair of blue jeans adored with a belt buckle, strap an acoustic guitar around his neck and toss on a cowboy hat, then bang, it's show time. In keeping his concerts bare bones affairs and by taking a carefree approach to celebrity, Strait has always made music the main priority and continues releasing solid albums adorned with classic country, traditional Tex-Mex and an occasionally insurgent underbelly.

Even amidst these admirable qualities, one can't help wonder what would happen if Strait put a little bit more effort into entertaining with each step he took on the current "in the round" tour? Anyone who's seen Strait once or twice over the past decade can attest to the fact that aside from mixing up the order of the greatest hits and throwing in a few new tunes,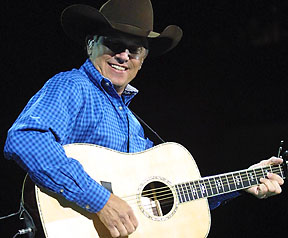 the legend's shows have remained mostly the same with minimal effort to truly stir the pot. Sure, it was great to hear radio favorites such as "Check Yes Or No" and "I Just Want To Dance With You" early in the evening and there was no question Strait and his "Ace in the Hole" band can still nail the notes, but the delivery seemed dry and somewhat uninspiring.

Though he's never one to chit chat for long durations with the crowd, Strait's closest stretches of personality came during the introduction and execution of "Take Me Back to Tulsa" and the title cut from his latest disc It Just Comes Natural. Slower songs such as "Run" and the rodeo heartbreaker "I Can Still Make Cheyenne" were much less forceful given their somewhat lackadaisical portrayal, which didn't benefit from the headliner facing only one section of the audience from the four cornered stage. Yet every time the tender notes seemed to slip away in the arena setting, Strait and the Aces would pull out another barn burning chestnut (such as "I Hate Everything") and make up for his dialed down persona with sheer muscle and musicality. The positive side of this constant pendulum swing confirmed Strait as a bona-fide classic country artist in the truest sense of the term, but during less engaging segments, he was clear candidate for showmanship lessons from today's current class.

Perhaps Strait could've also taken cues from opener Ronnie Milsap, who had the crowd all riled up (possibly more than they were the entire evening) from the first note of "Stranger in My House." The singer/piano player had his routine down to a tee but never sounded rehearsed, often allowing improvisational chord changes and some additional lines of lyrics to permeate "What a Difference You've Made in My Life," "Lost in the Fifties Tonight (In the Still of the Night)" and "Smokey Mountain Rain." Though his band looked they stepped straight from an 80s time warp of western wear, they provided a steady bar room backbeat one moment and the tenderness of a candlelit honky-tonk the next. The sightless Milsap was also the consummate comic telling fans "I autographed copies of my new CD My Life before the show on the bus and I signed so many that I almost went blind!" Between that easygoing attitude, an obvious sincerity and an hour's worth of instantly memorable material, this tunesmith remains an artist for the ages.