Story and Photos By Andy Argyrakis

Ever since Bob Marley's premature passing, the marketplace has been increasingly saturated with career retrospectives, repackagings and remastered editions. Though there's no downplaying his seminal influence in the reggae world (or becoming the genre's most gargantuan crossover star to date), keeping track of these posthumous tributes is sure to cause an even more extreme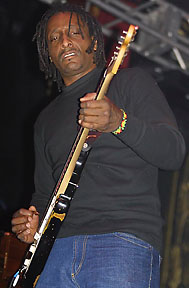 headache than twenty-four hours of endless exposure to pot and patchouli. Add in the fact that several family members are following in those footsteps (Ziggy and Stephen Marley to name a few), and the singer/songwriter's memory undoubtedly lives on.

But a list of hat tips to the groundbreaking troubadour can't be complete without mentioning longtime backing band The Wailers, which has steadily kept steam in its sail on the road thanks to Marley's enduring catalogue. Of course, the members are mixed between old timers (bassist Aston "Family Man" Barrett, guitarist Al Anderson) and newcomers in comparison (like lead singer Elan), placing the traveling revue of sorts somewhere between Marley's actual artistic offspring and a curious novelty. Then again, if The Doors and INXS can carry on without deceased singers, not to mention The Family Stone Experience touring without a living Sly, then perhaps the concept isn't all that outlandish.

Regardless of the reasons for continuing, the nine-member troupe succeeded throughout much of its 75-minute set, unfurling several essentials from the past, while also showcasing later career material that fell along similar lines. Elan actually opened the set solo, crooning a pair of peaceful warm-up tracks on acoustic guitar. Soon after, the full cast joined in with their hearty harmonies and sun-soaked grooves, turning in the tender "Natural Mystic" and the up-tempo, funk-laced "Concrete Jungle."

As expected, Marley's main staples earned the warmest receptions, like the instantaneous sing-a-long "I Shot the Sheriff" and the lighter waver "No Woman, No Cry." And while several others were picked straight off the band's best selling anthology Legend, the evening surprisingly steered clear from a pure nostalgia trip. Despite the age of the aforementioned or the flavorful finale "Three Little Birds," the politically and socially messages are just as meaningful today. Plus, just like Marley would've done back in the day, Elan urged the audience on several occasions to live out love, harmony and respect. In spite of the current cultural landscape facing several of the same problems as when these songs were first written, The Wailers left listeners without a worry in the world, suggesting that even amidst life's most challenging predicaments, "every little thing gonna be all right!"