Story by Brittany Fornof
Photos by Nick Masuda

The Central Florida Fairgrounds smelled of hotdogs and pot. Shirtless guys and bra-donning girls milled among the tents erected on the patchy field. With a 106 degree heat index, it was unbearably hot, but music junkies from across the Sunshine State still came out to participate in the annual Vans Warped Tour. Volunteers at the Trojan tent handed out condoms to sheepish kids while non-profit organizations such as To Write Love on Her Arms and Boarding For Breast Cancer distributed promotional materials.

The event featured more than 50 bands, covering all genres from pop punk to post-hardcore. Some of the major bands playing on the main stage included Simple Plan, The Devil Wears Prada, and Less Than Jake. However, some of the most entertaining performances came not from the main stage but from the lesser-known, but much appreciated bands such as Family Force 5. Wearing backpacks with inflatable balloon-like bobbleheads above their heads, the Family Force 5 entourage took the stage. "Orlando," Soul Glow Activatur (a.k.a. Solomon Olds)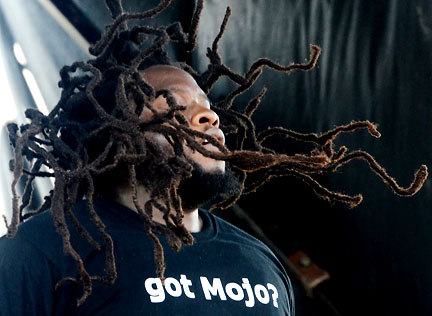 in his deep Southern drawl shouted into his microphone. "It's hot out here y'all." The band broke into some of their classic hits, including "Supersonic" and "Love Addict," and showcased their hip-hop funk talent while performing "Wobble."

The band's career has taken them 10 years from their hometown of Atlanta, Georgia, but their roots still showed throughout their performance. "Let's get gangsta y'all" one band member shouted from the corner of the stage. "We are your favorite white trash kids playing some ghetto music," another responds.

Like the Phil Collins of the Vans Warped Tour, Crouton (a.k.a Jacob Olds) performed the lead vocals for several songs, sometimes from the bench behind his drumset and sometimes at center stage. Soul Glow Activatur wowed the crowd when he donned a pair of green Hulk gloves, jumped into a giant, plastic bubble and pushed himself off the stage and into the audience where he proceeded to perform on top of the crowd. With so many strong voices in the band, one would think that the combination of their voices would result in a cacophonic rather than a harmonic sound. But the end result was surprisingly melodious and mesmerizing—the perfect blend. When listening to their live performance, it's obvious why the band has maintained their status for so long: because no other band could replace them.

Warped Tour veterans and newbies alike enjoyed the festivities of the day. "I went to Warped Tour two years ago and enjoyed it," said Jeff from Orlando. "But this year I wanted to get back to my roots so I decided to come." "It's actually our first time," said Katie and Alex from Orlando, who came at 10 in the morning and were determined to stay until the last show of the night in order to see one of their favorite bands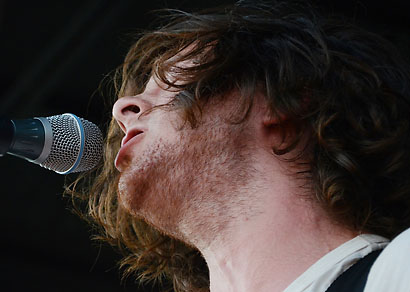 "The Ready Set." "We wanted to take it all in and experience it."

What happens at Warped Tour stays a Warped Tour isn't necessarily a mantra one could swear by. When Less Than Jake took main stage at 7:00, they decided to spice up the crowd's dwindling energy by offering free mohawks for anyone who wanted one. So while the band performed "All My Best Friends are Metalheads," one lucky victim was brought upon the stage and received a "Three Minute Mohawk" from the "official Less than Jake template." Then, the band searched the crowd for a volunteer who was willing to make out with the newly-made-over stud. A not-so-shy girl was found, and the two ensued in an awkward kissing session before posing for pictures on stage while the band continued to play their set list, which included the theme songs for "Animaniacs" and "Spongebob Square Pants."

The best costumes of the fest were worn by Japanese punk band "Peelander-Z," who played several crowd favorites, including "So Many Mike" while wearing their color-coordinated comic book-like costumes.

By the end of the day, concert-goers were scattered across the field, escaping from the heat by sitting on patches of grass in sporadic shaded areas and basking in the glory of their music mayhem marathon. These troopers proved that when it comes to Vans Warped Tour, the brave come, but only the dedicated stay all day.