Back for a Couple Rounds
Wilco
Auditorium Theater
Chicago, IL
Sept. 19, 2003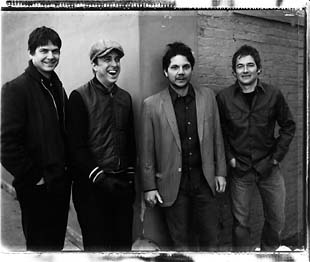 Publicity Photo
Story by Cathleen Loud

It was quite a trek-climbing from the car onto the train then catching the "El" and walking a few blocks-from Walworth County to the historical Auditorium Theater in Chicago Friday night. But after the grand performance by Wilco, it was well worth the trip to the city.
Performing in front of an audience in their hometown at such a small venue, it's no wonder why the four-member band pleased and satisfied the sold-out crowd. The small theater that holds what has to be less than 2,000, is the location of a plethora of musical, dance and theatrical performances. To see Wilco perform on stage at this venue is a treat. Characterized once as alt country rock, it's now difficult to categorize the band into any one genre. With experimental sounds and uncommon musical elements brought together, plus rock and roll, Wilco breathes a breath of fresh air into the music scene. With four albums under its belt, the band continues to surprise old and new fans alike.
The history of Wilco lends to their stature as outstanding performers. Created by lead singer/songwriter Jeff Tweedy after the breakup of a band called Uncle Tupelo, whose following was small but devoted - Wilco proved talent exists if the co-front man disappears. Comprised of four of the band members from Uncle Tupelo, Wilco continued the tradition and produced fresh, well-constructed songs. Their first album, A.M. was a new start and provided a promising outlook for the band. With their second album, Being There, Wilco stops short of nothing. The double album in which Tweedy wrote all 19 songs is a brilliant display of music with undertones of The Rolling Stones, The Faces and even The Beach Boys threaded throughout. The band followed Being There with Mermaid Avenue, a collaboration with British punk rocker Billy Bragg on the Woody Gutherie project.
Next came Summer Teeth, another lush sounding album that touts the creative process of each band member. The album invites listeners to groove on its retro sounds but also shows a darker side with lyrics like "I dreamed about killing you again last night and it felt alright to me." Summer Teeth is an emotional album wrought with stories of lost love.
The debacle of the release of Wilco's latest, Yankee Hotel Foxtrot make its sounds that much sweeter. After having a hard time in the studio and after the replacement of band members Jay Bennett and Ken Coomer, Wilco handed over the goods to Reprise Records only to have them reject it. Rather than remake an entire album, Wilco left Reprise and released Yankee Hotel Foxtrot on Nonesuch Records. Another album full of experiment, this time Wilco has it down to a science. Inventive manipulations and subtle twists make this album an interesting listen.
Friday night, prepared to blow the crowd away, Wilco got on stage and did their thing for nearly 2 hours. The band, ripe and ready, dusted off some "classics" and played many early releases. For new fans, singing along wasn't an option but for a few songs. For old fans, the comfort level soared as they played songs heard so many times. The crowd's reaction to the song selection was positive and fans were undoubtedly satisfied.
Tweedy was quiet save for a few remarks but definitely tuned in. In his humble garb of jeans and shirt, he played front and center all night. He is a great vocalist and his powerful, scratchy voice never let up. His guitar sounds were just as mighty. Glen Kotche's drumming was solid and bassist John Stiratt's playing and singing impeccable to boot. Keyboardist Mike Jorgenson, who also conjured sounds via his laptop computer, and multi-instrumentalist with guitar and keyboard skills, Leroy Bach, were excellent support.
The evening started off strong with "What's the World Got in Store" from the second album then going into heavier "Kicking Television" and then the sing along and experimental "A Shot In the Arm" from Summer Teeth. Things seemed to lull for a bit. Tweedy played with the lull, maybe setting the crowd up for the reserved and emotional "Reservations." The stage faded to dark and the crowd settled into their seats, leaning forward, drawn in by the power of the song with lyrics "How can I convince you its me I don't like." The video screen behind the musicians featured sponge-like fish floating across the backdrop.
From "Reservations" they played "I Am Trying to Break Your Heart" from Yankee Hotel Foxtrot, into the melodic and charming "War on War" and the quiet beginning of "Misunderstood". The song grew in intensity and finished with the words "I'd like to thank you for nothing at all." Like a skipping record, the band jammed on the word "nothing" as Tweedy repeated it over and over, for at least 15 beats, before bringing the song to a close. Shortly there after, the band exited the stage leaving the crowd primed to rock out some more.
Amidst thunderous clapping, whistles and screams, Wilco headed back onstage for a strong encore. Coming back with the quieter "Jesus, Etc." and ending with "Hoodoo Voodoo," a track from the collaboration with Billy Bragg, they meandered from their posts on stage once again.
To the crowds' applause, they sauntered back onstage for encore number 2 that sounded more rock and roll than the first part of the evening. They started with "Christ for President," another from the Billy Bragg compilation and played a handful of songs from the first album, including "Casino Queen" and "Passenger." They ended the evening with a strong finish playing "Outta Mind (Outta Sight)." At one point in the night, Tweedy said "It may sound cliched but it feels good to be home." Likewise, it was good to have them back for a round or two.


Here's Your Chance to.... Respond!


Your feedback will be featured on
Rant or Rave within 24 hours.