Story by Andy Argyrakis
File photo by Phil Bonyata

Five years is an interminable time to wait in between projects for Bruce Springsteen and the E Street Band die-hards, but The Boss hasn't exactly been on break during the lengthy hiatus. The gap was filled with a few solo acoustic tours behind 2005's introspective affair Devils & Dust, plus the following year's heralded New Orleans tribute We Shall Overcome: The Seeger Sessions (covering the songbook of the legendary Pete Seeger).

And while those periods were joyously palatable in their own way, it's ideal to have Springsteen and his longtime backers together again,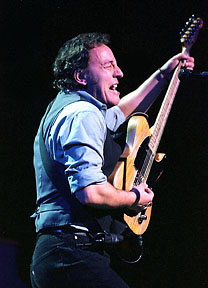 a combination that rarely disappointed on the current tour, despite veering away from several of the group's most famous selections. During the first of two sold out Chicago shows, the gang opened with a vengeance, firing on all cylinders for the brand new blue collar rock n' roller "Radio Nowhere," the sweltering "No Surrender" and the equally searing "Lonesome Day," held down by percussion powerhouse Max Weinberg with a little extra vocal help from Steven Van Zandt.

Throughout the next two non-stop hours, the band addressed most of the tracks on its latest CD Magic (Columbia), building upon the politically charged imagery of 2002's The Rising, while connecting with even more rollicking recklessness. "Livin' in the Future" was introduced by The Boss' frustrations by the current governmental administration, but it quickly kicked into full electric acceleration. "Long Walk Home" was also a current climax, thanks to its enormous guitars and instantly singable choruses.

Casual listeners who only own 1995's Greatest Hits had the chance to continue chanting on a few occasions, such as the perpetual fist-pumper "Badlands," which suddenly ended with a hyperactive crash and was triumphantly reprised after thirty seconds of rowdy cheers. The house lights also flipped on at full blast during stadium rattling renditions of a supercharged "Dancing In the Dark" and Clarence "Big Man" Clemons' sax-centered "Born To Run."

However, the immediately recognizable tunes were in somewhat short supply, with Bruce and the band skipping out on obvious singles such as "Born In the U.S.A.," "Hungry Heart," "Glory Days," "Atlantic City," "The River," Thunder Road" and "My Hometown." Of course, this trend is nothing new for anyone who's seen a show with the E Street Band before and the players rewarded return attendees with a slew of concert classics ("Reason To Believe" "Adam Raised a Cain," "Backstreets"), plus truly deep cuts (such as the encore jam "Thundercrack").

No matter what the motif, the show was stocked to the brim with some of the tightest instrumental chemistry imaginable, wrapped around the fearless leader's charismatic commands. Even after thirty-five years in the business, The Boss seems just as sincere as his first day on the job, while remaining an enduring symbol of old fashioned American dreams and freedom no matter what side of the political line one walks.