Story and Photos By Andy Argyrakis

Whoever's idea it was to derail The Beach Boys triumphant reunion inspired by the group's 50th anniversary and have the band splinter into separate camps once again most likely didn't have fans at the forefront of the decision. Nonetheless, after the contracted run was completed, brand name controller Mike Love returned to the road with longtime sidekick Bruce Johnston, leaving creative mastermind Brian Wilson, plus other key players Al Jardine and David Marks, outside of what's technically the "official" version of the band.

While it all makes for juicy tabloid fodder, Wilson, Jardine and Marks aren't crying over the controversy and instead joining forces on a collaborative tour through the group's extensive annals with a few like-minded solo cuts sprinkled in the mix.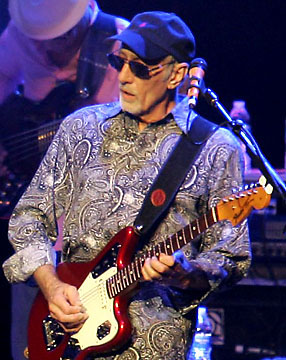 Do the math, and that means this particular configuration has one more Beach Boy on the marquee than the incarnation bearing that moniker, and while it's all such a downright shame, at least this trio is picking right off where last year's comeback left off.

In fact, the two act, nearly 40 song evening at the season's most treasured venue Ravinia expanded beyond just the most obvious hits that popped up on previous set lists, but dug pretty deep in the crevices of the Beach Boys' past. That meant sand-soaked sing-a-longs like "California Girls," "Catch A Wave" and "Little Deuce Coupe" were intermixed with the less familiar but equally enjoyable "Please Let Me Wonder," "Sail On, Sailor" and "Marcella," all of which were loaded with lovely harmonies, the core trio's seamless interplay and an extremely gifted nine piece band that helped with the heavier lifting.

Did the guys still have the vocal chops of say the original records that dated all the way back to the early 1960s? Well let's just say that age has weathered the 71-year-old Wilson's pipes in the highest of places, though no one caught up in the nostalgia of the night seemed to notice. As a singer, Jardine was the best of the bunch, while his dueling guitar licks with Marks never sounded sweeter, especially on classics like "Do Wanna Dance?" and "I Get Around."

Considering Wilson was holding the reigns instead of Love, there was no room for corny novelties like "Kokomo," but rather, plenty from the "Pet Sounds" and "Smile" opuses with "God Only Knows," "Wouldn't It Be Nice," "Sloop John B" and "Good Vibrations" each topping one another on the endless highlight reel. But there was also plenty to discover in newer but no less satisfying material, like the headliner's sublime solo selections "Your Imagination" and "Going Home" or the entire group's 2012 return to form tune "That's Why God Made The Radio."

Come an extensive encore that included "Help Me, Rhonda," "Surfin' USA" and "Fun Fun Fun," the joy was so palpable it could've even inspired an Antarctica inhabitant to break out their shorts and sandals, since after all, these songs still represent sunny celebrations like none other. Whether or not any of them will ever be performed to their fullest potential again with the entire surviving line-up remains to be seen, but as far as these three Beach Boys are concerned, their spirits appear to be unbreakable.