Story and photos by Andy Argyrakis

He started out as a teenage prodigy who topped the charts at a mere 16, was said to be an upcoming heir to Michael Jackson's throne (at least in terms of the dance floor) and later earned endless tabloid time for some serious Rihanna drama. Now 22, Chris Brown's already lived a lifetime of achievements and less flattering headlines, but through it all, he's endured to the point of being one of the brightest stars of the R&B, pop and hip-hop scenes.

On the Chicago area stop of The F.A.M.E. Tour, the all around entertainer proved his popularity is not only surviving but realigning at the First Midwest Bank Amphitheatre with a massive spectacle that certainly took cues from the "King of Pop." Though he has a long way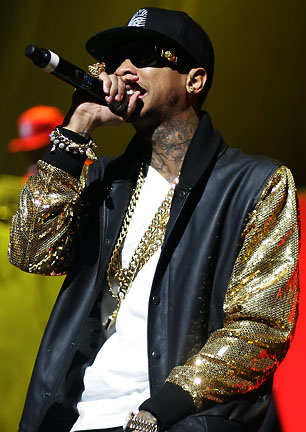 to go before eclipsing that late great influence, Brown has no trouble keeping the contemporary company of Usher, Ne-Yo or Robin Thicke.

Besides the double-decker stage, a live backing band, fleet of dancers and loads of blinding lights, the singer/part time rapper switched up styles with regularity, from the beat blaster "Say It With Me," to the robust R&B of "Wall To Wall," the smooth soul jam "She Ain't You" and the down and dirty grinder "Deuces." Regardless of the format, his slick choreography took center spotlight, which accompanied by a slew of outfit changes that ranged between military garb to formalwear, hinted he's trying to adapt a classier attitude.

Yet even with some extra sophistication, Brown still knew how to throw a party, with call and response cuts like and "Yeah 3x" and "Beautiful People" reverberating well onto the lawn. Though the reaction to his full-throttled set was nothing short of frenzied, the newly redeemed star seemed fairly humble throughout the 90 minute showcase, which suggests that all's been forgiven and perhaps even forgotten thanks to an unhindered ability to throw a captivating concert.

It didn't hurt that the opening act cast featured several favorites from the aforementioned scenes, with direct support coming from rapper T-Pain and his circus-like cast of over the top hip-hop characters. Former Destiny's Child member Kelly Rowland also demonstrated a new found R&B edge, though a brief, overly beat-driven set failed to highlight her past vocal dynamite. Tyga was even shorter with just a few quick cuts, but offered a promising glimpse of rap and hip-hop's future, also serving as a welcome warm-up to the like-minded marathon.