Story and photos by Tony Bonyata

It's been exactly thirty years since musician, producer and music theorist Brian Eno first worked with David Byrne & Talking Heads (this was for the Heads' sophomore effort, More Songs About Buildings and Food). Since then Eno has gone onto work with some of the biggest names in rock (such as U2, Coldplay, James, Devo, Paul Simon and, perhaps most importantly, David Bowie on his groundbreaking late '70s Eno-produced trilogy - Low, Heroes and Lodger). While he continued to steer the Talking Heads in more of a post-punk, World music direction - incorporating funky African polyrhythms with both electronica and eccentric new-wave pop - he would also go onto to collaborate with Byrne (sans the Heads) in 1981 for the dark, yet brilliant album My Life In The Bush Of Ghosts, which continued in a similar vein as the Eno-produced Talking Heads albums, only instead of incorporating standard vocals the duo utilized actual samples of Arabic singers, disc jockeys and even an exorcist for often chilling results.

Fast forward twenty-seven years and the two musical brainiacs have gotten together once again to create their latest collaborative full-length effort, Everything That Happens Will Happen Today.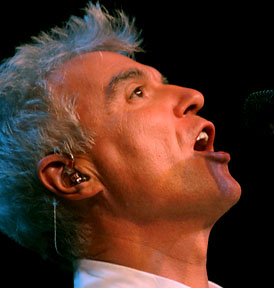 While it lacks much of the heavy World music influences and left-of-center experimentation of their past work, it's nonetheless a fulfilling collection of mature electro-pop that holds up extremely well.

In support of the new album (which was digitally released Aug. 18th and will hit stores in CD format on Nov. 25th) Byrne has recently embarked on an aggressive tour under the moniker, Songs of David Byrne and Brian Eno, only without Eno it should be noted. For his recent show at the grand Pabst Theater in Milwaukee last Wednesday, Byrne unveiled, arguably, his strongest stage show since Talking Heads' Stop Making Sense tour in '83. With a clean stage unadulterated with any props, the 56 year-old emerged with a dignified shock of grey hair and clad from head to toe - along with the entire musical ensemble - in white. Three talented young dancers also added both a sense of energy and creativity with their unaffected and often show-stealing choreography.

Byrne, with his vocals sounding stronger than ever and his spry, rubbery body imprisoned by the rhythms of the evening, led the ensemble through many of his and Eno's latest songs, such as the poppy and infectious opening number "Strange Overtones," as well as "My Big Nurse," "Home," "The River," "Life Is Long" and the evening's closer "Everything That Happens." In between Byrne and company also added in the funky "My Big Hands (Fall Through The Cracks)," a number from his and Eno's musical collaboration on famed choreographer Twyla Tharpe's 1981 dance project The Catherine Wheel.

But more than anything else, the majority of this sold-out house were here to witness Byrne performing his Eno-produced work with the Talking Heads, and the frontman did not disappoint. The band delivered renewed and energized versions of fan favorites from the album Remain in Light such as "Once In A Lifetime," "The Great Curve," "Houses in Motion," which brought the crowd to a standing ovation by song's end, and "Crosseyed & Painless," where Byrne opened the number with a jammy Carlos Santana-like guitar solo before the Afro-rhythms forced the crowd to their feet again to move in time with the frenetic, angular beats. They also ran through a few classics from the Heads' 1979 experimental masterpiece Fear Of Music, including the African-spiced "I Zimbra," along with their blue-eyed soul take of Al Green's "Take Me To The River" and the lilting beauty of "Heaven."

Oddly enough, Byrne also added in the Talking Heads hit "Burning Down The House" for one of his encores - a song from their 1983 Speaking In Tongues album that Brian Eno wasn't involved in. Although, judging from the frenzied crowd dancing in the aisles and singing along with the chorus it was a more than welcome mix into a stunning set from the genius of Byrne and Eno.