Story and Photos by James Walker

"OH, a 'sista' is really tired," quipped Dee Alexander as she took center stage at the weekly Checker Jazz Set sponsored by the Hyde Park Jazz Society's Sunday night at the Checkerboard Lounge on the South Side. You see, Dee has been quite busy this past month performing worldwide with two trips to Paris in addition to her many performances in the Chicago area. Just this past weekend, she entertained audiences in Schaumburg on Thursday, the Green Mill Friday and Saturday before sharing her vocal gift with the very appreciative SRO Checker Jazz crowd on Sunday. In addition, Dee reminded the audience that she also has a "real" job during the day.

With due respect to Aretha Franklin, the "Queen of Soul," the reigning "Queen of Jazz" undoubtedly has to be Chicago's own sensational Dee Alexander. This hard working songstress waisted little time seamlessly easing into the first set with the very appropriate Beatle number, "Hard Day's Night." Leave it to Dee to turn this classic rock tune into a stylish, beautifully arranged jazz song.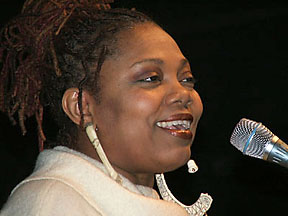 This was an arrangement that this writer had never before heard.

Dee makes everything look so easy on the stage and a lot of that is due the the exceptional band mates accompanying her. What a group, consisting of three of Chicago's finest musicians. Miguel De la Cerna, her longtime musical director, was on the 88s. Miguel is one of the many fine Chicago keyboardists, and showcased his skills throughout the three sets with many outstanding extended solos. Harrison Bankhead, with his familiar upright bass, was solid from start to finish. Finally, Leon Joyce, Jr. (Ramsey Lewis' drummer), kept perfect time during this three plus hour evening of great music. Dee usually works with this threesome,which makes it easy for their smooth transitions from song to song.

Much of the evening's music was that of Jazz divas of yesterday. Dee is very respectful of the likes of Nina Simone, Dinah Washington, Gloria Lynn, and Dakota Staton as she shared with the audience how she became acquainted with these ladies as a youngster while growing up on the West side listening to her mother's records. She also pays homage to great male performers like the late bassist Eldee Young, Malachi Thompson, and Oscar Brown Jr. She recognizes the challenges these trailblazers faced and the groundwork they laid for future musicians.

With De la Cerna bouncing up and down with an extended solo on "Better Than Anything." Dee beautifully sang and scatted through out this number like only Dee is capable of. She followed this song with Dinah Washington's "Bitter Earth." Perhaps the highlight of the first set ensued with a stirring rendition of Nina Simone's" Mississippi Goddam." This song, skillfully arranged by De la Cerna, was written by Simone out of anger after the firebombing of a church in Mississippi during the civil rights era, that resulted in the death of four little girls. One could almost feel the pain coming from Dee as she sang this song with so much emotion and conviction. She also seemed to be energized by this selection,that received a rousing ovation from the audience.

Harrison Bankhead introduced "Feeling Good" during the second set with an extended solo on the upright. Throughout his solo, he combined uncanny speed and deep tones while forging ahead with melodic ingenuity. Dee displayed her "chirping" style on this number while Joyce turned his drums into a "congo like instrument", using his hands only. This entire number was beautifully done without the assistance of the keyboard.

This set was also highlighted by a commanding solo from drummer Leon Joyce, Jr. on "Live." This piece was full of ideas played with a beautiful sound and valiant spirit that compelled toe-tapping from the excited packed house. His power-precision drumming was the rule all night long.

Although much of Dee's music is about love and relationships, she also uses her forum to deliver messages to her audience. She's like an artist painting a picture because her instrument is clear, firm and invariably focused. It was during her next to last song,"We'll All Be Free," that she left the audience with a clear message as she concluded the song with "one day we'll all be free ...from George Bush." The crowd roared it's approval to this phrase.

As Dee engaged in friendly bantering with many familiar faces in the audience toward the end of this marvelous evening, one could again hear her utter as she left the stage "a 'sista' is tired. What an evening! Dee gave it her all. She's such a professional with skills unlike any other vocalist in Chicago. Whether she's performing in Europe with an ensemble or a big band at the Millenium Park or with an Avant-Garde group at Fred Anderson's Velvet Lounge or as guest vocalist with her cousin Trumpeter Corey's Black Slang Group or with her small combo at the Green Mill or Checkerboard, the results are always the same; an evening of clear, crisp vocals being performed by Chicago's "Jazz Entertainer of 2007."

Next Sunday's Checker Jazz set promises to be another evening of great vocals from Maggie Brown. Maggie, daughter of the great late Oscar Brown Jr., will undoubtedly draw a large crowd, so it's again advisable to arrive early before the 7:30pm start time... For detailed information about upcoming Checker Jazz sets, log on their website at www.checkerjazz.org.

Check out great Chicago jazz happenings at JazzChicago.net