Story & photos by Jennifer Bronenkant
Dave Matthews & Tim Reynolds photos by Mary Andrews

This year's Farm Aid concert was held at the brand new Livestrong Sporting Park in Kansas City, KS. The concert is the major annual fundraiser for the organization that originated during the farm crisis in 1985 and now works to support family farming and promote the good food movement. The event features 10 hours of great live music along with a farmer's market and the Homegrown Village where farmers and organizations demonstrate where your food comes from. The food drive on the day of the concert collected enough food for 5,324 meals. The organization walks the "eat local" talk as they replace the usual concession food with good food grown locally by family farmers. All performers generously donate their performance and travel expenses for the event. The venue is beautiful but more suited for a soccer game then for a live music event. That being said, this year's Farm Aid concert was a great success in both getting the message across and providing an incredible day of music and fun.

At a press conference before the day began, Willie Nelson was inducted into the Agriculture Hall of Fame for his tireless work on behalf of farmers. This puts him in the company of Abraham Lincoln, John Deere, Jerome Increase Case, Thomas Jefferson and other great people who greatly contributed to American agriculture.

The concert started off with Willie Nelson welcoming the crowd followed by a short set gospel set by the Blackwood Quartet. Warming up the crowd were 15 minute sets by activist, poet and singer John Trudell, Kansas City funk band Hearts of Darkness and British singer-songwriter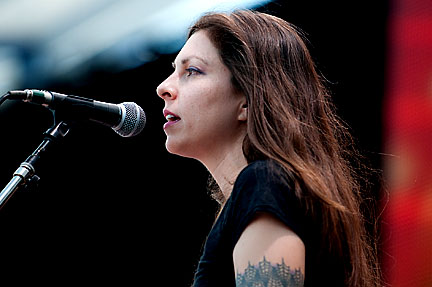 Rebecca Pidgeon.

These quick sets were followed by classic country legend Ray Price singing a few of his best loved songs including "For The Good Times" and then a mellow set by young indie folk singer Robert Francis.

Billy Joe Shaver backed by a great 3 piece band brought his brand of classic Texas Honky Tonk music with songs like "Georgia On A Fast Train" and "Live Forever."

Boston based Will Dailey and the Rivals brought an upbeat set of his original folk/rock music. Dailey, in further support of the cause, was in the middle of his "Road to Farm Aid" tour bringing increased awareness to the cause on his way to and from Kansas City,

Willie's son Lukas Nelson and his band Promise of the Real rocked the stadium with his high energy blues/rock music. There were probably quite a few in the crowd who hadn't heard the young Nelson before but he quickly made many new fans with his incredible guitar playing. He inherited his dad's musical talent but is definitely his own man with his own style. His sister Amy Nelson joined in the vocals for the second part of his set.

Jakob Dylan played a mellow acoustic set of music from his Wallflowers days and a cover of Elvis Costello's "(What's So Funny 'Bout) Peace, Love, and Understanding." Jamey Johnson and his band along with Lukas Nelson hit the stage with his song "High Cost of Living." Johnson often covers other artists work more than his own in concert. This was true this day, as the rest of his set was made of covers then finishing with "Give It Away," a George Strait hit which Johnson co-wrote with Bill Anderson. The highlight of this performance was Buddy Holly's "Raining In My Heart" in which Johnson shared the spotlight with Nelson in a emotional rendition of this classic song.

Jason Mraz performed with his percussionist Toca Rivera and left the rest of his large band at home. Just the two men on the stage really worked with for this set consisting of his California-style positive music along with a crowd sing-a-long of Mr. Rogers's "Won't You Be My Neighbor." Half way through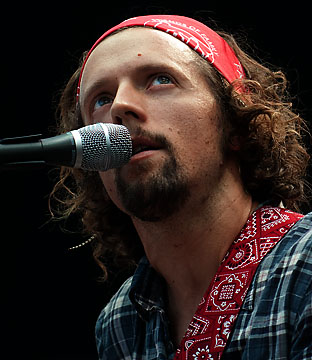 the set he sang "Frank D. Fixer" a song about his farmer grandfather that he wrote for Farm Aid. The lively set ended with the feel good "I'm Yours." Mraz, a long time Farm Aid supporter, is actually an avocado farmer in California.

The rest of the night belonged to the Farm Aid board members who headlined the event. The first being Dave Matthews who performed with guitarist Tim Reynolds. With a huge fan base in the audience, Dave pulled the wandering concert goers back to their seats, many for the first time of the day. It was obvious many were there for Matthews alone. As he usually does for this event, Matthews sang a mellow acoustic set that had the crowd singing along with hits like "You and Me."

Always a crowd pleaser, John Mellencamp performed next. His set consisted of some old favorites: "The Authority Song," "Pink Houses" and "Small Town" along with a bluesy "Death Letter Blues". His voice has become gravelly giving a more roots feel to his singing. He is still one of the most engaging performers touring today.

Neil Young alone on a stage - just the man, acoustic guitar and harmonica. It doesn't get better. Opening with "Comes a Time," he went on to perform some of his biggest hits: "Sugar Mountain," "Long May You Run," "Peaceful Valley Boulevard," a more recent song "Love and War," finishing with "Heart Of Gold." Young who is always the most enthusiastically vocal member on the board spread the message of buying local from family farmers in between his songs.

To close out the day, Willie Nelson performed with his Family band opening with "Whiskey River," followed by "Still is Still Moving" before turning the spotlight back over to Lukas for Stevie Ray Vaughan's "Texas Flood" and his own sentimental "Fathers and Mothers." Willie then welcomed Hawaiian Reggae singer Marty Dread to sing "Lend A Hand To The Farmer" which he wrote for Farm Aid.

Willie back at the forefront sang "Kansas City," "Good Hearted Woman," "Mama's Don't Let Your Babies Grow Up To Be Cowboys," "Write Your Own Songs" and "Will The Circle Be Unbroken." He was then joined by some of the previous performers to sing gospel favorites "I'll Fly Away" and "I Saw The Light." Nelson finished with his new song "Roll Me Up And Smoke Me When I Die."

Farm Aid is much more than a music festival. A small core group of staffers pull off this major event yearly creating a day with an almost county fair atmosphere with all proceeds going to support a grass roots cause. It always draws a great crowd of friendly people, many of them family farmers. Some come just for the music, but many come to also support a cause they believe deeply in. In the midst of a fun-filled day, the message to "know your farmer, know your food" came across loud and clear.

For more information about Farm Aid, visit farmaid.org.