Review and photos by Andy Argyrakis

Out of the seven original studio albums in Peter Gabriel's catalogue, "So" will always be the crown jewel, not only since it sold over five million copies in America alone, but also because it provides the perfect balance between commercial viability and artistic ingenuity. To celebrate its 25th anniversary (which will be marked by a standard CD, triple disc and deluxe box set on October 23), the art rocker is currently on the road performing the collection "Back To Front" with many of the session's original band members (including the heralded return of King Crimson collaborator Tony Levin on bass).

Before Gabriel got to the "So" tunes at Chicago's respectfully full but not quite sold out United Center, he turned in ten career spanning songs that ranged from the ultra-familiar to fairly rare. With the house lights still on, Levin and a piano playing Gabriel popped up surprisingly to debut the brand new, mostly instrumental "OBUT," a chilled out affair that definitely seems like a work in progress, but nonetheless served as fine filler while everyone rushed to their seats. By the time they arrived, a stripped down version of "Come Talk To Me" was in full swing, followed "Shock The Monkey," which also took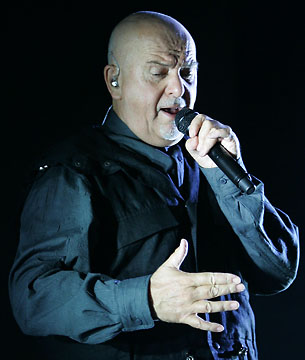 an acoustic framework, but with a more aggressive edge and loads of rhythmic rumbles.

Other early highlights included full band renditions of "Digging In The Dirt," "Secret World" and "Solsbury Hill," along with the scarcely performed "No Self Control," complete with an onslaught of swirling guitars and glowing harmonies. Equally unexpected was "The Family And The Fishing Net," but it proved to be overly lengthy and laborious, while a few songs later, the gentle ballad "Washing Of The Water" did little to close out the first half with a bang. (If you're reading this PG, why not consider swapping them with "Games Without Frontiers" and "Steam"?)

Nonetheless, Gabriel gave concertgoers exactly what they paid for in the second act, starting with the always striking "Red Rain," which dove straight into the electricity doused "Sledgehammer." For an artist who's generally not very nostalgic, the veteran appeared to be having a ton of fun, while the audience seemed much more enthused than they were during last year's subdued orchestra tour. It's also worth noting the big screen visuals created quite a spectacle, while crew members in burglar masks frequently moved crane lights in unbelievable patterns to create equally arresting ambiance.

The "So" set also included an ethereal rendition of "Don't Give Up" (featuring a background singer competently taking Kate Bush's place), while the hushed "Mercy Street" was downright chilling as Gabriel laid down on the floor in the middle of a bullseye projection. Though he's always been a bit embarrassed by its slick radio appeal, "Big Time" truly lit up the night both figuratively and literally thanks to the band's booming grooves and massive bursts of lights. "We Do What We're Told (Milgram's 37)" and "This Is the Picture (Excellent Birds)" were understated in comparison, but helped build a bridge to the world beat-infused finale "In Your Eyes."

After hearing and seeing "So" leap to life, it didn't sound anywhere near 25-years-old, which is likely to become even more apparent on the forthcoming remastered editions of the album. And while the "Back To Front" tour may not have been as avant-garde as some of Gabriel's previous pet projects, it was by far his most satisfying since the first time around, finally allowing him to reconcile the fact that he can simultaneously lead the musical life of a superstar and an innovator.