Story and file photo by Andy Argyrakis

For any band with nearly a forty year history, a few lead singer switches and two polar opposite performance styles, assembling a set list can be quite a daunting task. But the Phil Collins led brand of Genesis (reunited for the first time in fifteen years) gallantly attempted and for the most part succeeded at simultaneously recreating its pop glory years with its progressive/art rock beginnings.

Though a true reunion would entail the band's first vocalist Peter Gabriel and early guitarist Steve Hackett,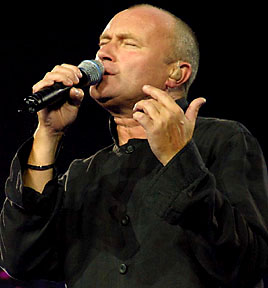 this particular outing was still stacked with original members Mike Rutherford (guitar/bass) and Tony Banks (keyboards), along with longtime live players Daryl Stuermer (bass/guitar) and Chester Thompson (drums). And that line-up came out with a bang thanks to the epic suite of "Behind The Lines/Duke's End," instantly merging pop appeal with lengthy but controlled instrumental expression.

For the next two and a half hours, the group would jump all across the last four decades, from the 80s staple "Turn It On Again" (also the tour's name sake) to the following decade's socially conscious "No Son of Mine" all the way back to "The Cinema Show" (from 1973's Gabriel-led Selling England By the Pound album). The MTV audience was appeased with rollicking versions of "Land of Confusion" and "Mama," while the band's art rock appreciators could soon find solace in the retro royalty of "Firth Of Fifth" and "I Know What I Like."

Regardless of the time periods presented, one of the concert's main crests came during a "Drum Duet" between Collins and Thompson, which truly showcased the skills of both master craftsmen as opposed to going the self-indulgent route. Just before the jam could've turned long winded, the pair brilliantly transitioned into the old school instrumental "Los Endos," ripe with accompanying bursts of light and towering production that could rival The Rolling Stones.

While Genesis generally achieved appropriate equilibrium, it did unfortunately showcase two overt atrocities. The first was a presentation of the lifeless ballad "Hold On My Heart," along with the downright foolish encore of "I Can't Dance," both of which could've been substituted for more sophisticated material off any album. But Genesis thankfully made up for the grievous errors by closing out the evening with "The Carpet Crawlers," another Gabriel-era staple that Collins' flawlessly interpreted. Though time will only tell if the entire band tours together, that resplendent moment left the door propped for its former front man to come back anytime he'd like, and based on the rapturous fan reaction, would likely be met with open arms.