Viva Glasvegas - Interview with James Allan and Rab Allan

Exclusive Interview
April 21, 2009

Portland is cold. It's the kind of biting cold that you can only fight off mentally. You have to distract yourself from it. Mittens, scarves, jackets, all useless; only your mind can save you. So as I sit on this tour bus outside of the Wonder Ballroom, I thank whatever gods might be listening that I have the fortune to occupy my time with something as captivating as the band members of the Scottish band Glasvegas. Initially formed in 2003 with the current line-up established in late 2005, Glasvegas has been tearing up the fame ladder at an unbelievable speed. Just one year ago confined to local concert halls and pubs in Scotland, Glasvegas is just currently finishing up an extensive US tour with an upcoming European tour in which they will open for not only Kings of Leon but also rock legends U2. But despite this geyser to stardom, the members of Glasvegas remain level-headed and cordial. They still take time to talk with fans as they did before they got big, and they're always happy to answer questions or have their picture taken with followers of their band. I spent my time with the band asking them about their past, their feelings toward wrapping up their US tour, and their plans for the future.

Tina Minster: Thanks for taking the time and sitting down and chatting with me. The show was phenomenal. So I must ask: the last time I saw you, you were only a few months into your epic tour. Are you still enjoying yourselves and having as much fun with it all or are you counting down the days when you can get home and crawl back into your own beds?

James Allan: Yeah, definitely still loving it. We're still enjoying the fan's excitement and still very much into giving the best shows we can give.

TM: Playing the same songs and same set list, does it get difficult to keep the performance fresh and energized?

JA: No, not really. [Each show] we play to new faces and new excited fans, and every time we meet [new fans] we really want them to have a good time. Everyone takes away with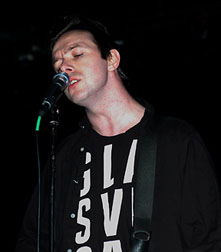 them a different experience in how they relate to our songs and our shows, so as long as we play our best and are still having fun with it all, then that's the best we can do. We love it.

TM: I feel like anything that can be said about you has already been said. You guys are everywhere right now. You were the toast of SXSW in Austin, your tour is going great, you head back to the U.K. soon where you are going to be opening up for Kings of Leon as well as some shows for U2, your record is doing extremely well...It's overwhelming just to reflect on! How has all this affected the band, if at all?

JA: It's affected us for the good. I mean, this time last year we were all at home, living our normal lives and I was racking my head putting together songs, and now we're here and all this is going on and we love it. We're really thankful that people enjoy our music, [because] we feel like we're doing exactly what we're supposed to be doing, and we're having a great time doing it.

TM: Speaking of fun, I know it's crucial to your success that everyone gets along so well. Looking around the bus, there really isn't a ton of room in here, and you're all stuck in this space for hours and hours on end. The fact that you can still be cheerful enough to play a fantastic show and hold and interview afterwards proves how well you all get along. I guess family plays a part in it, right? Aren't you and Rab cousins of twin mothers?

JA: Yeah, that's true. But growing up together and always being around each other and given we're only a few years apart, we really grew up like brothers. I think of him as a brother, not a cousin.

TM: If I remember correctly, Paul and Rab were school chums and you and Caroline have been friends forever, and it was you that asked Caroline to be your drummer?

JA: Yes, I did. I knew she would be great at it, and she is. She didn't even know how to play the drums when I asked her. We just kind of taught her and it fucking turned out great.

TM: You all got a few days off around Christmas to go see your families.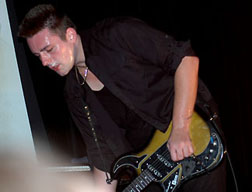 That must have been really great. They must be proud of your accomplishments.

JA: Definitely, yeah. It was nice being home and seeing my mom and everyone. She's very proud. All of our families are.

TM: So what's your favorite American fast food place, just curious?

Rab Allan: Anywhere that has a cheeseburger. I love the cheeseburgers over here.

TM: No particular place? Because they are all different, you know. My eldest son won't even touch a cheeseburger if it's not from a certain star-logo establishment.

RA: Nope, no, love them all.

JA: I try to eat a little healthier, but I do like the chinese resturaunts here.

TM: Is is hard to stay healthy with your guy's schedule? Do you try to hit a gym if there's one in your hotel?

JA: Yeah, most definitely. I've been doing butt exercises for quite some time now. I'm up to 4,372 clinches a day.

RA: You should take a look at James' ass. It's quite nice. He's really worked it into shape.

TM: Hmm, maybe later. I don't think I'm quite ready for that just yet.

RA: Then you can compare mine to James'.

Just then Caroline walks through and gets caught in the middle of the conversation. You can tell they all really care about each other. They interact and pick on each other just like siblings. For as many people that are on the bus, it's quite calm and low key; no rockstar drama bullshit.

TM: So James, with the non-stop pace and being on the road for so long, how do you think that will affect the next album?

JA: I don't really know, I suppose. The past few months and all their experiences will definitely have some play in the words and melodies that my brain will think up. The tour has definitely had an impact on me, but I don't really force myself to sit and think of material. I kind of just get ideas and write them down as quick as I can. Sometimes it's easier to do than other times, but it just happens when it happens, you know?

TM: Keeping on track of the new album,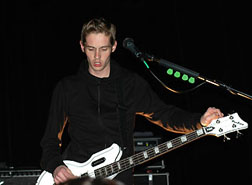 I heard you are most likely going to record in Los Angeles. Looking forward to more days in the sunshine?

RA: Yes, definitely. I will be in the sun soaking it up with Caroline and Paul while James is lying in the shade somewhere. He's part vampire, you know.

JA: Ha ha, it's true.

RA: Then hopefully we can take the new album back to SXSW with us next year. We had a great time there. Lovely people, great artists, and the best margaritas.

At this point the night is late and my guts hurt from laughing at Rab's jokes and off-color comments. I thank them all for giving up some of their sleeping time, as I know the next day has them waking up to yet another anxiously awaiting crowd.

The most appealing quality of Glasvegas is, without a doubt, their honesty. Their sound is one of the most original I've heard in years. Obviously you can compare bits and pieces of them to other bands just like you can with any other group, but the summation of their parts and the result as a whole is so refreshingly unique that comparing any part of them or their performance to anything feels insufficient. The lyrics all clearly draw from personal events and sincere emotions, and lead vocalist James embraces his accent with a passion while singing (I've never understood singers who take lessons to hide their natural voices. Thank you, James, for not following this foolish trend). They try in no way to replicate or latch on to any popular trends. They're just themselves, and it works remarkably. The song "Stabbed" is symbolic of the band's originality. A tune about being stabbed set to Beethoven's "Moonlight" Sonata. When I listened to this track while staring at the album's Starry Night-esque cover, I knew that I'd stumbled onto something worth really listening to. I don't mean, "hey let's pop this into my car's CD player for some background music while we chat our way down the coast." I mean sit down, turn on, open your ears, and say, "Wow. This is fucking music." This isn't the latest pop single or some corporate cash cow or the club hit of the minute. This is from the heart, through the soul, real goddamn music. The late comedian and philosopher Bill Hicks once spoke out about the corporatizing of music, reflecting on a time when "music had a conscience, music had soul, and music had balls."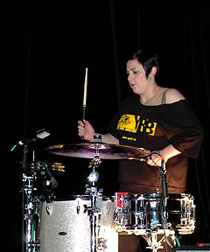 In a world obsessed with catchy choruses and beatboxing and quirky sampling, it's sometimes hard to remember that what matters most in music is heart and soul. Glasvegas does its damnedest to remind us of that.

Other outstanding tracks include "Daddy's Gone," "Geraldine," and "Flowers and Football Tops." While many of the band's songs possess a certain oldies quality, "Daddy's Gone" is the most notable throwback to 1950's doo-wop. It's wonderful to see someone paying tribute to an often overlooked-yet-defining era of music. By the time the bridge came along, I was ready to toss on my hoop skirt and horn-rimmed glasses (Yeah, I got a hoop skirt. Wanna fight about it?) With lyrics such as, "What kind of way is that to treat your wife? To see your son on Saturdays, what way is that to live your life?", it's a piercing look into pain so personal yet so cleanly conveyed and relatable to the listener in its presentation. James' voice goes places most vocalists are too scared, too "tough," or too untalented to venture these days, and it's fabulous. "Geraldine" is a beautiful, unique look at what it means to be there for someone. "When you're lost in the deep and darkest place around, may my words walk you home safe and sound. When you say that I'm no good and you feel like walking, I need to make sure you know that's just the prescription talking." It's more down-to-earth and realistic and than the fairy tales that make up most love songs now. This in turn makes it more believable and helps drive the emotion home. It's a moving song with the perfect blend of heart-tugging "oohs" and "ahs" for background vocals; a love song for the imperfect, common man that doesn't have everything going for him. Moving from heart to heartbreak, "Flowers and Football Tops" is a song about the painful acceptance of sudden loss. James' ability to put the listener into the role of the song's protagonist really shines in this track. It's a perfect blend of simplicity and natural voice that throws you right into the middle of the song's scenario and bombards you with the emotions as if you were experiencing them firsthand.

Glasvegas has been on tour throughout the US for almost a year now and are finally on their way home to do some touring throughout Europe. Catch them there if you can, or if you're like me, wait patiently until they eventually come back to the States. Their self-titled CD is available on iTunes with the single "Geraldine" also available to download and play on Rock Band for you gamers out there. Not enough can be said about this band. Glasvegas is one of those groups that everyone regardless of music tastes finds themselves drawn to. They are a breath of life into the music industry and a historical totem that will be visible for years and years to come. I would say "don't miss them," but they are on their way to being unmissable.

P.S. For the record, Geraldine does exist and she was a social worker. Cheers.