Story and photos by Andy Argyrakis

Throughout the past four decades, George Winston has been tagged under jazz, new age, blues and even folk, but the Grammy Award winning playing pianist seamlessly switches between genres and projects. He's recorded a series of CDs based on the seasons, touched on the work of "Peanuts" score mastermind Vince Guaraldi, turned in a full-length tribute to iconic rock n' rollers The Doors and most recently recorded Gulf Coast Blues & Impressions (aiding Hurricane Katrina victims). The versatile composer and occasional covers artist started his show at the sold out, acoustically immaculate Metropolis Performing Arts Centre on the latter note, getting down with the empowering, Dixieland-inspired "New Orleans Shall Rise Again."

Over the course of two hours, he continued addressing New Orleans' needs, while also intertwining a few traditional sounds of the seasons, plus instrumentals in the vein of his historic musical heroes.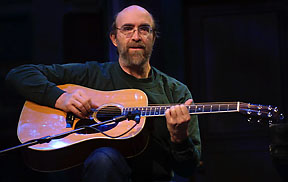 An early crest was the Guaraldi medley of "You're Not Elected, Charlie Brown" and "Little Birdie," two vibrant, bebop recreations filled with rapid chord switches amidst animated piano pounding. Winston then dug even deeper in the past to tip his hat at the stride piano period via "The Chase," backed by an explanation about how Earl Hines, Fats Waller and Teddy Wilson (Benny Goodman, Billie Holiday, Ella Fitzgerald) had immeasurable impact on his personal playing style.

Shortly after recalling that bi-gone era, Winston dipped even further back in the day, switching over to acoustic guitar for a track called "Sassy," which dates back to Hawaii in the late 1800s. The easy going, slack-key guitar standard was easy going and carefree, transporting attendees to a tropical atmosphere, even amidst the traditionally snowy season. But he also made sure to address the impending Christmas celebration, rolling an invigorating "Carol of the Bells" into a tempo shifting "Clappers."

Considering every seat in the venue provided an intimate view, attendees could also take advantage of watching Winston's fingers in the mirrored lid of his Steinway & Sons grand piano. Those intricate transitions were especially alluring throughout the rich "Colors," along with the new "Pixie #3 (Gobajie)." In keeping with the Crescent City theme, that second cut was based off James Booker's blues classic "Pixie," but was retold within Winston's unmistakably original framework. It also helped summarize the show's overarching message of reaching out to the downtrodden, which seemed particularly appropriate during this season of giving.

As for the Metropolis itself, it's slowly but surely incorporating concerts into an already extensive theatre line-up, boasting an impressive line-up (especially for being just outside the Windy City). The venue's recent roster includes shows with "Queen of the Blues" Koko Taylor, Tex-Mex legends Los Lobos, Irish indie rockers Hothouse Flowers, plus Poi Dog Pondering. And prior to this particular concert, an announcement was made promising two additional Winston shows at some point in 2008 (with forthcoming information at www.metropolisarts.com).