Story by Thomas Calkins III
Photos by Joe Hargreaves

To those not in the know, the band name Ha Ha Tonka either sounds like an indie band trying to carry an obscure moniker or a State Park. In this case it is actually both. But here's the thing... these guys do what no art school dropout or Missouri's twelfth largest Natural Spring can do, they can actually write music. Unlike a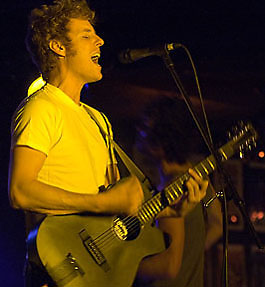 lot of bands in the indie-rock set, Ha Ha Tonka, accomplishes two major things; (a) they actually rock; as in play rock music and (b) they don't have an artistic hatred of tradition.

As funny as it sounds, Ha Ha Tonka are something like a cross between Spoon and the Oakridge Boys. Though that might not sit well with some (seeing as I last heard the O.B.'s were on the aptly named "Red, White and Blu-Blocker Tour"), meant with only the best sense of those words. To put it bluntly, I've never seen a rock band pull off a southern style four-part harmony section that was so dead on you couldn't possibly negate it. Sitting behind all of that is a very sharp and finely tuned staple of rock songs, many with blunt endings and time signature changes, but never to an annoying end.

In a way I could see some lumping them in with an insurgent country set, but the boys in Ha Ha Tonka are far from being a band with a cartoonish preoccupation with "old timey" nostalgia. Their tour van was not the General Lee (although that would be bad-ass), if you catch the metaphor. In many ways, the band played music that illustrated that they were the proud inheritors of a rich southern musical tradition long envied by many a northerner, but they also have a Pixies record or two in their collections.

So although the name might not actually give it away, Ha Ha Tonka IS a band worth getting into, especially if you've got at least a little spot in your heart for both deep seeded tradition and playful (re)invention.