Story by James Walker
Photos by James Walker and John Broughton with Brad Walseth

Wow!!!!!! What a day. From the first note played by ragtime pianist Reginald R. Robinson at DuSable Museum to the final crescendo echoed by the first lady of Jazz, Dee Alexander during the "jam session" around 2:15am at the International House and during the thirteen and a half hours in between, it was just a fantastic array of diverse jazz orchestrated by the Hyde Park Jazz Society last Saturday at the dozen venues throughout Hyde Park on a gorgeous day and night.

The weather was perfect, the crowds were huge and patient, and the musicians were simply exceptional. The Hyde Park Jazz Festival will have a difficult time topping this production next year. Of course, that's what was stated after last year's successful festival, but they indeed were able to exceed such expectations.

Although this listener was able to survive the entire thirteen plus hours of wonderful jazz, it was still impossible to catch each and every act that took part in the festivities. Nevertheless, ten performances were observed, with nary a set lacking in excitement and/or entertainment.

The day began with the Jazz Links, youth group sponsored by the Jazz Institute of Chicago, performing a thirty minute set, displaying their skills and talents. These youngsters performed admirably, as they had done throughout the summer before many of the "Made In Chicago" sets at Millennium Park.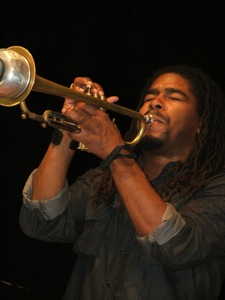 Ragtime pianist Reginald R Robinson, performed before a packed DuSable house to the satisfaction of the audience. Performing a solo set, Reginald played many numbers that he composed. He also made this set interesting by enlightening the audience with a story behind each composition. Reginald's set was a perfect entree to what was in store for the remainder of the day.
Guitarist Henry Johnson's Organ Express followed Robinson on the "hot" DuSable stage. Flanked by his bandmates of many years; saxophonist Peter Roothaan, drummer Greg Rockingham, and organist Chris Foreman, this quartet had a swinging set that included several numbers featuring Johnson as a vocalist. Throughout this hour long set, each ensemble member had highlight moments, During their tribute to vocalist Nancy Wilson on "Save Your love for Me," they received a standing ovation from the appreciative crowd. This group actually recorded that number with Ms. Wilson.
Nicole Mitchell performed a well-received set in the courtyard at the Smart Museum, followed by pianist Robert "Baabe" Irving III, who was next on this listener's agenda. Baabe, former musical director for the late Miles Davis, assembled another exceptional group of musicians. World class bassist Larry Gray, hard working drummer Ernie Adams, and newcomer violinist Sylvia de la Cerna joined Irving. It's always a pleasure watching Irving perform, and this day was no exception. De la Cerna (wife of keyboardist Miguel de la Cerna), is a classical violinist, and has been seen recently working with other jazz ensembles. Gray performs throughout Chicago and is a member of Ramsey Lewis's Trio. And Adams was all over Hyde Park during the festival ,as he performed on four different stages during consecutive sets; thus the honor as "the hardest working man at the Festival." What's amazing about Adams was his energy level never waned during this six hour stretch.
Irving, always the conversationalist during his sets, complemented the festival organizers for having the foresight to develop such a festival that was quite similar to those in Europe; spread out over a compact area and overlapping with their start times. He began the set with a new composition entited , Barack, inspired by a dream he had about the Presidential candidate.
Again,this set was peppered with outstanding extended solos by each band member. Perhaps the highlight being the finale, "Havilah," taken from Baabe's "New Momentum" CD of 2007.
Paulinho Garcia, Greg Fishman (Two for Brazil) and Heitor Garcia entertained small crowds within, and large crowds outside, of the Robie House, with their infectious brand of soothing Brazilian music. This writer was pleasantly surprised upon arriving at the main venue, Midway Plaisance. Not only was their a large jubulant crowd, the midway was covered with food and media vendors. Many revelers even set up outside the perimeter as if it wad Ravinia. What a nice atmosphere!!!!.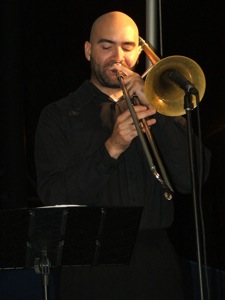 The underrated keyboardist Charlie Johnson was the first act this listener caught at the Midway. Joining Johnson was trumpeter Pharez Whitted, bassist Josh Abrams, and that man again, Drummer Ernie Adams. They opened this set with the Horace Silver classic, "Song for My Father." In addition to banging piano solos by Johnson, Whitted was exceptional on this number and on Herbie Hancock's "Maiden Voyage." Whitted is another one of those underappreciated Chicago musician. He and Johnson received many well deserved ovations from this knowledgeable crowd. Young Abrams continues to demonstrate why he's often seen performing with veteran Chicago musicians.
Keyboardist Edwin Sanchez and his Latin Jazz Ensemble had many in the audience out of their seats and dancing to the infectious sounds of this brassy group. This ten piece band was "hot" from start to finish with an array of sounds including "Chicago."
While Sanchez was playing, diva Dee Alexander was performing in front of a huge crowd in the lovely and impressive Rockefeller Chapel. Dedicated to the memory of violinst James Sander's recently deceased mother, the set was stirring in it's intense beauty.
Upon arriving at the International House to catch trumpeter Orbert Davis and his all star group, this writer noticed a line had formed outside. Although this hall is very spacious, many were disappointed when they could not get a seat. Orbert is truly one of Chicago's finest musician/composers and he brought along some of his friends to assist. Included in this group was the great saxophonist Ari Brown, Keyboardist Ryan Cohen, bassist Stewart Miller, and that man again, drummer Ernie Adams. Adams literally arrived on stage as Orbert began playing. Ernie was just completing a set with vocalist Dee Alexander at the Rockefeller Chapel.
Although this writer only stayed for part of Orbert's set, listening to Ari and Orbert for only a few minutes was a treat. These are two masterful musicians who can hold their own with ANYONE!!!!!!!!!!! Add keyboardist Ryan Cohen to this list and you have something special. He's not quite well known as the others, but Ryan is also an accomplished musician, who recently released a critically acclaimed CD entitled "One Sky."
Back to the Midway for the Sax In The City group. This aggregate often performs together before SRO crowds and was one of the stars at last year's Festival. Ray Silkman, Audley Reid, James Perkins and Skinny Williams, preceeded to the stage from the back , blasting their horns to the approval of this crowd that awaited them. For the next hour , this foursome rocked this skating arena to the delight of all. They performed as a foursome, in twos and solo. Whatever the configuration, it excited the audience. As they concluded their set , they exited the stage and continued playing as they walked through the crowd, where many had gathered in front to "dance the night away." What a fun set after a very long day of music. These guys were backed by the rhythm section of Charlie Johnson on piano, Alan Burroughs on guitar, Will Howard on bass and Derek Henderson on drums. All four lead their own bands.
The final act before the Jam Session, was the "Greatest Guitars" consisting of Henry Johnson, Buddy Fambro, and Curtis Robinson. Again, the International House was at full capacity with many waiting outside , hoping to finally get in. The guitars were backed by bassist Josh Ramos and veteran drummer Robert Shy.
It was obvious that these guys were having a "ball" throughout this set. They started with Miles Davis's "All Blues" and Curtis wasted little time making his guitar "cry" on this number. They also played a beautiful rendition of "The Nearness Of You" before concluding the set with Coltrane's "Impressions." This was truly a highlight as Fambro had his best extended solo, only to be topped by a extraordinary wild solo by Henry Johnson. The audience spontaneously rose to their feet for a well deserved standing ovation. It was electric. What a way to conclude this set and the pre-jam session of the festival.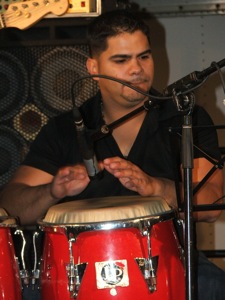 It's about 12:30am now, as musicians stream into the hall for the afterset jam session. This session was led by the affable Curtis Robinson. He's a perfect host with his sense of humor love of music. Keyboardist Miguel de la Cerna joined, Ramos, Shy, and Robinson for the initial segment of the jam session. They opened up with "Green Dolphin Street" before guitarist Toby Wallace and bassist Frank Russell took their turn with "Summertime." Russell was superb on Monk's "Straight No Chaser."
Vocalist Tecora Rogers was next as she sang "The Nearness of You." As she was serenading the crowd, with this beautiful ballad, from the rear of the stage, with trumpet in hand strolls in Corey Wilkes. With his horn muted, he walked up to the mic and continued to accompany Tecora. She didn't realize what was happening but never missed a beat. It was a beautiful sight.
Corey, pianist Greg Spero, saxophonist Kevin Nabors led a group of young turks in a couple of absolute jams. The crowd was ecstatic.
Before concluding the evening, vocalist Maggie Brown and pianist Bethany Pickens, collaborated on "Afro Blue," Curtis McSwain rendered "Funny Valentine," and vocalist Barbara Gogins favored the audience with a sassy crowd pleasing version of "Just the Way You Are."
Finally, to put an exclamation mark on fourteen hours of continuous exceptional music, Curtis called Dee Alexander to the stage for one last number. She was joined by Corey Wilkes and Kevin Nabors as she blasted away on Nina Simone's "I Put A Spell On You." It was a perfect ending to a flawless day and Dee and the boys "wore" this number out. Needless to say, as she hit the final note the audience rose to its feet for one final standing ovation.
Wow!!!!!!!!! What a day. Special mention to Carolyn Albritton, the musical executive producer who put together this extraordinary array of talent, Judith Stein, Hyde Park Jazz Society's Secretary who worked feverishly all day and night, the society's President Jim Wagner, who was the inspiration for the festival's idea and Vic President Charlie Thomas. special thanks to THE UNIVERSITY OF CHICAGO and Michelle Olson. The Festival was produced by The University of Chicago, Hyde Park Cultural Alliance and the Hyde Park Jazz Society.Keep up the good work folks as you begin planning for another successful festival for 2009.

Check out great Chicago jazz happenings at JazzChicago.net