Story by James Walker, Jr.
Photos by James Walker, Jr. (JW), John Broughton (JB) and Bryan Thompson (BT) - copyright 2009

From the moment 2009 Grammy Award winner Jazz Vocalist Cassandra Wilson uttered beautiful sounds at the Hyde Park Jazz Festival Preconcert Gala on Friday, Sept. 25th to the exclamation notes from "Double Trouble" - trumpeters Maurice Brown and Corey Wilkes at the early morning Jam Session on Sunday, Sept. 27th, this Festival was a resounding success.

Yes, they did it again!!!! The 3rd annual festival was even bigger and better than the previous two. This one day musical soiree is becoming the shining star of festivals in Chicago. Staged at 16 venues within 14 locations across the greater Hyde Park and University of Chicago area, thousands of jazz enthusiasts endured the 15-hour marathon, with many walking to venues when shuttle buses weren't available. This listener visited six, and without exception, they all were packed to capacity, with many having to turn away large numbers at the door.

Billed as a benefit for the Yoruba Arts Foundation , Cassandra Wilson, and the Kenwood High School Vocal Ensemble kicked the weekend off with an exceptional concert on Friday, at the beautiful Rockefeller Chapel on the Campus of the University of Chicago. Ms. Wilson spent two weeks conducting workshops and working with these students in preparation of this Gala Affair.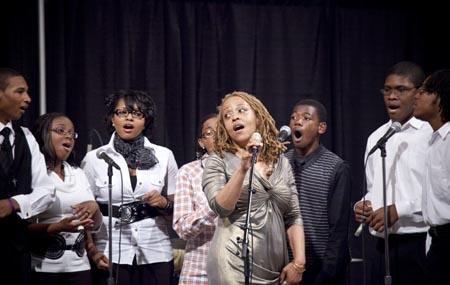 Cassandra was joined by young keyboardist Jonathan Baptise, bassist Reginald Veal, percussionist Lonnie Plaxico, drummer Herlin Riley and band leader guitarist Marvin Sewell. Highlight of this wonderful evening of music was their upbeat rendition of "St. James Infirmary," taken from her 2009 Grammy winning CD, Loverly. As this listener glanced around the Chapel, heads were "bobbing and weaving" in approval. Similar reaction from the audience occurred when Cassandra joined these young people on a couple of numbers with one of the students scatting and singing reminiscent of Ms. Wilson. It was on the final number that all rose to their feet as the "choir" concluded their presentation to this well deserved standing ovation.
Kudos to Yoruba Foundation, Kenwood Academy and Ms. Wilson for their unified effort, which really put a positive spin on the beginning of the Hyde Park Jazz Festival.
Although this writer arrived at the festival toward the end of the "Double Trouble" set at the James Wagner Stage on the Midway Plaisance, the packed arena was in a festive mood as trumpeters Corey Wilkes, and Maurice Brown, joined by drummer Charles Heath, keyboardist, Robert Irving III, and bassist Junius Paul, were having a "ball" with their exceptional set. That's usually the case when those cats get together.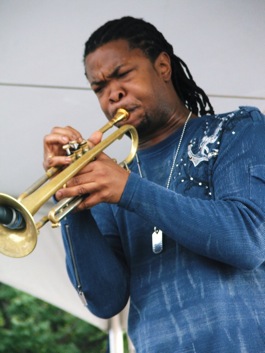 Vocalist Tammy McCann was next on the agenda as she held court at the Rockefeller Chapel. Tammy and her band mates of drummer Perry Wilson, bassist Harrison Bankhead, and keyboardist Jeremy Kahn, peppered the crowd with some of her classics and a few new numbers like "Amazon" and "Blue Woman" - which will probably be on the play list for her next CD. Tammy - classically trained, has such a lovely voice which was quite appropriate for the Chapel.
Next, I journeyed to the "Experimental Station" on South Blackstone to listen to guitarist Henry Johnson and his Jazz Project. Henry reunited some of his old colleagues especially for this set to revisit selections they recorded back in the 80's for which they received a Grammy nomination.Such members included bassist Frank Russell, drummer Robert Gates, and keyboardists Bob Long and Mike Logan. Henry even rendered a vocal, "Don't Go To Strangers," which he says was inspired by the coaxing of vocalist Nancy Wilson when he was a member of her band. This set's highlight was Earl Klugh's "Spellbound," which featured drummer Gates "spell binding" extended solo. What an appropriate way to end an excellent appearance.
Chicago's first lady a Jazz, Dee Alexander was one of the featured acts at the James Wagner Stage. No matter how often one has a opportunity to see her perform, it's always such a pleasure. She was accompanied by her favorite musicians, bassist Harrison Bankhead, drummer Ernie Adams, and musical director keyboardist Miguel de la Cerna. Dee chose most of her play list from her critically acclaimed CD, "Wild is the Wind." In addition to "Rossignol" and "Long Road Ahead," she included a selection she recently debuted at the Chicago Jazz Festival, "City By The Lake" - a beautiful Chicago "anthem" co written by Dee and Miguel.
Off to the "International House," to catch guitarist Bobby Broom in the "garden patio." Joining Bobby was bassist Dennis Carroll, and drummer Kobie Watkins. This set consisted of selections from their recent hit CD, paying tribute to Thelonious Monk. These guys work so well together with each being very animated. Being outdoors in the garden patio under the stars was very intimate.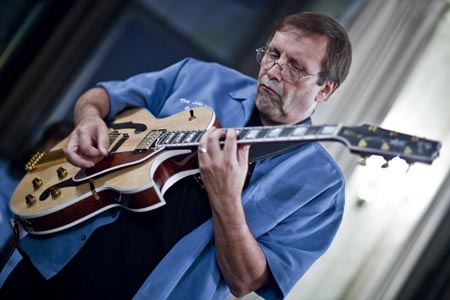 Keyboardist John Wright was next upstairs in the "Home Room" of the International House. John was accompanied by his longtime band members, Nick Tountas on bass, Jim Pierce on guitar, William "Bugs" Cochran on drums and Lady T on vocals. John tickles the 88s so softly and is always a joy to watch. Lady T's vocals included "Nice and Easy," and "I Took a Trip" which really thrilled the audience.
Another feature of the Festival was the appearance of world class trumpeter, Jon Faddis. Jon shared this bill with another trumpeter, Pharez Whitted.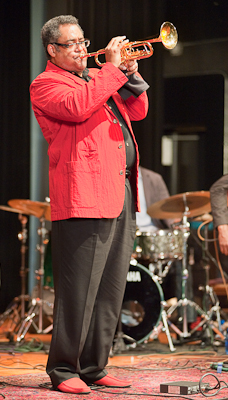 This all-star band again included drummer Kobie Watkins, bassist Dennis Carroll, pianist Ron Perrillo, and guitarist Bobby Broom. What a special opportunity to see these musicians performing together as an ensemble. As always, Jon "blew the crowd away" with those stratospheric notes that only Jon is capable of hitting. Usually Jon is directing his orchestra, but tonight, he demonstrated why he's considered one of the world's most gifted musicians.
Back to the "Home Room," where saxophonist Jimmy Ellis is performing with bassist Jimmy Willis, drummer "Bugs" Cochran, and keyboardist Miguel de la Cerna. Playing this room was ideal for this "old school" bebopper.
Jimmy was followed by pianist Ryan Cohan and his friends, saxophonist Geof Bradfield, drummer Dana Hall and bassist Lorin Cohen.This group primarily played from their upcoming CD, a group of original songs.
The final group to perform before the "late nite/early morning " jam session was guitarist Fareed Haque's Garaj Mahal.This four piece band consisted of bassist Kai Eckhardt, keyboardist Eric Levy, and drummer Sean Rickman. This group had the International House "rockin" with their "middle eastern jazz/rock" sound. They were electrifying and received a well deserved standing ovation.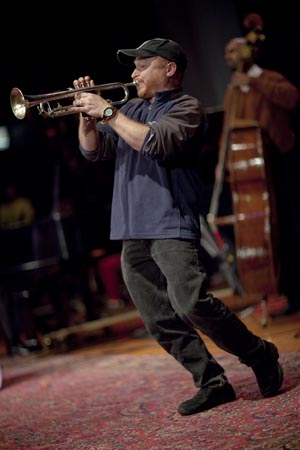 Finally, the late jam session could have gone on forever. Unfortunately, restrictions necessitated a 2am closing time. Dee Alexander hosted this event that began with her rendering a number with her band. From there, musicians took turns on stage thoroughly entertaining the audience and having a great time in the process. The list of both known and unknown artists included, Toni Walls, flute; drummers Tony Robinson, Bryan Bryce, Frank Parker, Jr.; keyboardists Greg Spero, Yvonne Stroud, bassists Will Howard, Frank Russell, vocalist Maggie Brown, Milton Suggs; saxophonista Chris McBride, Ed House; Hanah Jon Taylor; trumpeters Kevin Sparks, Brad Goode; and trombonist Norman Palms.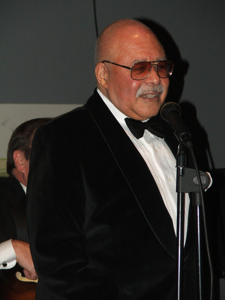 But it was the final group that appropriately climaxed these 15 plus hours. Trumpeters Corey Wilkes, Maurice Brown, bassist Junius Paul, drummer Rick Heath, keyboardist Greg Spero, saxophonist De Sean Jones and trombonist David Ben Perot were absolutely spectacular. These young lions, full of energy at 2 in the morning, blasted the night away and had the SRO crowd in a frenzy. No one wanted to admit that the Festival had come to an end, but these young men left a lasting memory in the minds of all present. Unfortunately, all good things must at some time come to an end.

Thanks Hyde Park Jazz Society and special thanks to the late James Wagner, founder and past president who was instrumental in the development of this grand event. Jim rest in peace and you will always be in the thoughts of Hyde Park Jazz Society members and friends. Until next year.

Check out great Chicago jazz happenings at JazzChicago.net