Story by Brittany Fornof
Phoots by Nick Masuda

Sunday night proved to be an eventful evening at the House of Blues in Orlando, Florida. Alternative rock bands Jack's Mannequin, Motion City Soundtrack, and Company of Thieves took to the stage, entertaining their loyal Central Florida fans.

Company of Thieves, a band originating from Chicago, opened the concert with an upbeat and theatrical set list. Dressed in a white lace dress and opaque leggings, Company of Thieves front man Genevieve Schatz paraded across the stage with the energy of an overly-friendly small child. With her untamed curly brown hair, Schatz looked like an older, taller Shirley Temple. Rocking back and forth on her heels and pressing her hands out to the side, she tottered towards and away from the microphone, belting out the lyrics. Upon first glance, you might not like her. She's overly eager for an alternative rock vocalist, too sweet for such a rough crowd, and too frail-looking for her vocal skills to be taken seriously. However, not liking her would be one of the biggest mistakes you could make because Company of Thieves is a blessing to the alternative rock community.

Mastering a set of songs differing in pitch, tone, and tempo, Schatz's voice was as clear as a songbird's, resembling that of A Fine Frenzy's Alison Sudol and British pop vocalist Kate Nash. Schatz possesses characteristics of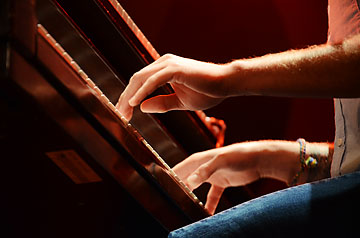 some of the best female vocalists of this generation, but Schatz has a sound that is all her own. And the combination of her energy with the band's laidback, cavalier stage presence makes Company of Thieves a Chicago delicacy. If you don't give a hoot about artistic expression, then you probably won't like them, but if originality tickles your fancy, then you won't be able to resist Company of Thieves' latest album Running from a Gamble.

Clad in plaid, Motion City Soundtrack was the second act of the night. "Thanks for coming out to a wonderful evening of music, "said lead vocalist Justin Pierre. "It's really kind of y'all." Throughout their set, the band played hits from their 2007 album Even If It Kills Me and their 2010 album My Dinosaur Life, including: "Everything is All Right," "This is for Real," and "The Weakends."

Dusting his keyboard with his hair, keyboardist Jesse Johnson leaned across the keys before walking to the front of the stage and, in a fit of rage, yelling, "Sing it fucking louder!" to the audience. Lead singer Justin Pierre didn't give an exceptionally entertaining performance. Rather, guitarist Josh Cain and drummer Tony Thaxton produced most of the stage presence, feeding off the crowd's excitement and showcasing their own commitment to the music. The band as a whole gave the best performance when playing "My Favorite Accident" from their 2003 album I Am The Movie. If the band played every song with the same vigor, they would undoubtedly succeed in connecting with every single fan in the audience. Perhaps, when the band releases their new album in 2012, they will exhibit a renewed sense of passion for their music during their next tour. From the moment they walked on stage, Jack's Mannequin didn't cease to please the audience.

"How are you all doin' Orlando?" asked lead vocalist Andrew McMahon. Dressed in dark blue jeans with a crisp white shirt tucked in with a belt, McMahon looked more like a 50's high school jock rather than a 21st century pop rock star. Taking his place at the grand piano at center stage, McMahon began playing the first stanzas of "My Racing Thoughts" as drummer Jay McMillan banged out the beat on his orange drum set, guitarist Bobby "Raw" Anderson chimed in on his bright red, electric guitar, and bassist Mikey "The Kid" Wagner picked away on his two-toned bass. The band played through several hits from all three of their albums, including songs "Holiday from Real" and "The Resolution."

The energy that the band invests in each song makes them noteworthy. McMahon's ability to interact with the crowd and draw them into the music while playing the piano and shouting the lyrics into the microphone distinguishes him as a phenomenal performer. The background vocals of Anderson don't simply compliment McMahon's voice, but sustain the songs. The band performs well as whole, in sync and in tune to the strengths and weakness of each member-it's natural chemistry. The popularity of the band in the music community can be attributed to more than just luck in the studio. The band's popularity certainly correlates with their remarkable stage presence and obvious connection with the audience.

"It's scary coming into a big room and playing new music one week after the release of a new album," said McMahon. "But you guys make us feel comfortable." Despite their morbid themes, the best performed songs of the night were "Hey Hey Hey (We're All Gonna Die)" and "Kill the Messenger." Sitting at the piano with his light blonde hair and pale skin, McMahon looked and sounded like an angel-a distraught angel, but an angel nevertheless-while singing, "With my bus and my band I'm making a stand/So sympathy now for the last time." Jack's Mannequin finished drew close to the end of their set with "Swim."

"When I found myself in a bad place, and I felt I could have gone in a different direction," said McMahalon. "This is the song that I wrote, and it kind of kept me going forward." Breaking away from the solemn mood, McMahalon jumped on top of his piano, crouched towards the audience, and yelled, " Do y'all want to hear some rock and roll now?" The band concluded their set with few more songs and a heartfelt goodbye before rushing away from the crowd. But with the chanting of "one more song" emulating from the audience, the band returned to the stage a few minutes later and played more fan-favorites, including "Amy, I," "La, La, Lie," and "Dark Blue."

On that Sunday night in sunny Orlando, Florida, the trio of alternative rock bands successfully fulfilled Central Florida's gnawing craving for live alternative rock music. We can all sleep soundly, knowing that we were fed good music...until the gnawing hunger for live entertainment returns next weekend.