Story by Robin Mayer
Photos by Terry Mayer

Jack Johnson brought a little bit of Hawaii to Wisconsin last Saturday night during a capacity crowd to Alpine Valley. Johnson doesn't bring his tour to these parts of North America very often so an enthusiastic crowd readily welcomed him to the Midwest. The Alpine audience was rewarded for patiently "Sitting, Waiting, Wishing" for him to come to Wisconsin. "Everybody said I should come here... I didn't know... now I do!" quipped Johnson early in the show. He has his own brand of laid-back groove that does not make for a particularly exciting show but it does offer an evening of laid back music.

Johnson has always struck me as a reluctant star. You can almost see him quizzically scratching his head wondering just how all of this happened. Although he began as a professional surfer in his teens and became a filmmaker after college, it is his music that has grabbed an audience that spans a wide range of ages and made him a household name.

It is this same quizzical attitude that he brings with him to the stage. His show on Saturday night gave the impression of a group of friends getting together on the beach to play some music. He didn't seem all that aware of the audience until a beach ball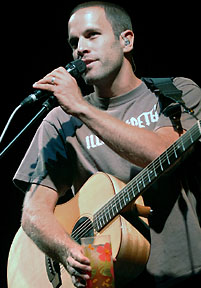 accidentally bopped him in the head in the middle of a song. Uttering a quietly playful "You got me! But you won't get me again!" Johnson continued on to give a performance that was basically a sing-along fest.

Opening the show with "Hope" from the newly released CD Sleep Through the Static, he rounded out his show with the big hits "Bubble Toes", "Banana Pancakes" and "Upside Down". He smoothly segued into Paul Simon's "Mother and Child Reunion" during "Horizon Has Been Defeated". The entire show was sprinkled with songs from his four albums and the Curious George soundtrack. While he told his stories, images of Hawaii looped in the background giving the impression that while he tours all over the world, he is never really that far from home.

Johnson seems to have the most rapport with keyboardist Zach Gill. Actually, it was Gill who lent the energy to the show, dancing around his piano and treating us to an accordion solo during "Banana Pancakes." While Johnson told a few stories, he seemed to be telling them more to Gill than us. We were really just eavesdropping on their conversation.

The buzzword throughout this tour has been "Green." Preferred parking was given to those who carpooled. Concertgoers were encouraged to bring a reusable water bottle. Recycling bins were placed throughout the venue. So I really expected to hear "The 3 R's" (Reduce, Reuse, Recycle) from the Curious George soundtrack. Johnson didn't include it in his set list.

There was plenty of music to enjoy throughout the almost 2-hour show. While it may not have been the most energetic concert I've ever attended, it did leave me feeling as though I had just spent almost two hours at a mellow beach party with some fun friends who played some mellow, cool music.