Review and Photos by Andy Argyrakis

Northern Illinois University is no stranger to staging arena shows, bringing the likes of Kanye West and B.B. King (to name a few) to the corn field surrounded campus. However the normally serene settings have unfortunately been interrupted by the fatal February 14 shooting from a former student that resulted in six fatalities and eighteen wounded. Though media flocked to the campus in the aftermath and continue to report updates on occasion,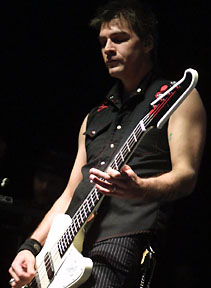 the road to rebuilding and hopefully some healing seems to finally be in full swing, as evidenced by a steadily building concert schedule (including upcoming shows with Jimmy Eat World, Paramore and Carrie Underwood).

But amongst first folks to kick off the streak of silence were punk rock powerhouses Joan Jett and the Blackhearts, a curious choice for the collegiate venue, though one that was likely backed by her broad base appeal. After all, the famed singer/guitar slinger was an early staple of the CBGB scene alongside Talking Heads, Tom Petty and Television (all of whom opened for her), while blazing the trail for women artists of all associations. And from then until now, she's captivated everyone from punk and pop circles to radio listeners and indie appreciators, along with audiences of all ages from various walks of life.

Though students certainly flanked this show, the seats were filled with a wide ranged mix of the aforementioned, all of whom were simultaneously treated to the group's greatest hits and more recent selections from 2006's Sinner (Blackheart Records Group). No matter what the era, Jett and her longtime backers were fierce and fiery, juicing up all eras with unabashed electric attitude and those seriously sassy vocals. Golden oldies like "Bad Reputation," "Cherry Bomb" and "Crimson and Clover" possessed the insurgent sprit that got this original "riot grrrl" noticed in the first place, while reclaiming the take charge personality of the front women's youth.

Even with her veteran status, that intensity hasn't diminished a single step, as evidenced by the bone crunching grit of "I Hate Myself for Loving You" and the sure fire sing-a-long "I Love Rock N' Roll." Though the tamer moments were few and far between, "Love Is All Around" (theme song for "The Mary Tyler Moore Show" did provide a light hearted release and additional audience participation. However there was still plenty of blustery business to attend to, including current tracks like the naughty "Naked," the freaky "Fetish" and the furious "Five," all of which found the entertainer packing the punches and oozing with genuinely rebellious emotion. In keeping with the massive banner stating "Forward, Together Forward" that greeted patrons at the door, the evening was indeed a welcome vehicle of escapism for those gathered, with Jett providing yet another timely example of how rock n' roll will always have a healing touch.