Story and photos by Andy Argyrakis

Considering John Mellencamp lives only a state away in Indiana, plus appears annually at Farm Aid, audiences in Illinois get to see the old fashioned American rock n' roller on a fairly regular basis. However this year marks his first full-fledged tour behind an all entirely original studio album in over half a decade, with a new show in support of this year's Freedom's Road picking up where 2001's catchy Cuttin' Heads left off.

Outside of supporting social causes like the aforementioned, Mellencamp also made headlines as of late, starting with time on 2004's Vote For Change Tour (in opposition of the current administration) and a more recent stance against racism (inspired by ongoing tensions in Jena, Louisiana). But at Rockford's mostly full Metrocentre,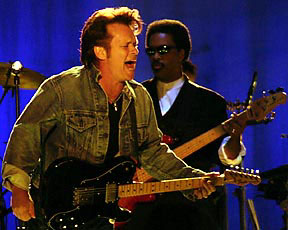 it didn't matter what box anyone checked on last election's ballots, nor their color or creed, as the heartland entertainer waved a banner of patriotism loud and proud.

The Bob Seger-flavored new cut "Our Country" (which ironically also appeared in a Chevy commercial) was loaded with poignant sentiments of freedom, honesty and respect for all humankind. Those down to earth expressions continued to permeate the 100 minute set, including the anthemic cries of "Ain't that America/home of the free" during "Pink Houses" and his tribute to growing up in Bloomington during a solo acoustic rendering of "Small Town."

Even though those tunes and other rough necked oldies like "Paper In Fire" and "Check It Out" are at least two decades old, Mellencamp and his six piece band benefited from updated arrangements, often enhanced by additional electric guitar and accordion parts. "Rain On The Scarecrow" was delivered with the most might and muscle, grinding with insistency as the down to earth ringleader led the masses through the tune's bellowing rally cries.

That same spirit of insistency also permeated "Ghosts Towns Along The Highway," an assessment of abandoned communities, spiced up with slicing violins and haunting harmonies. A few songs later, the classic rocker "Lonely Ol' Night" provided an entirely different premise- the rejected romantic longing for a lasting love. Yet Mellencamp ended the night on a strictly enjoyable note, dusting off his famed storybook song "Jack & Diane" for a rousing sing-a-long, complete with several thousand hand claps. In that super charged moment (and the ensuring howls for an encore honored via the blistering "Authority Song"), the troubadour unequivocally recaptured his timeless (and timely) roots.