Story and photos by Andy Argyrakis

New Orleans may be synonymous with the legendary, genre defying likes of Fats Domino, the Neville Brothers, Dr. John and Irma Thomas (amongst countless others), but the leaders in the Crescent City's new school is unquestionably Mute Math. The much buzzed about band may have found footing in the State's local club scene and eventually the famed Voodoo Music Experience, but has since branched out to be the indie darlings of the UK's V Festival, SxSW, CMJ Music Marathon, Lollapalooza and Bonnaroo (to name a few). Just like that diverse swath of events, the foursome was just as unpredictable and outrageous on the stage during its never ending tour in support of last year's self-titled Teleprompt/Warner Brothers debut.

Given all the previous attention, plus a history making performance on "Jimmy Kimmel Live" last month (where the band unleashed its current single "Typical" completely backwards note for note), Chicago's House of Blues was packed to the absolute brim. Not only did the band live up to the hype,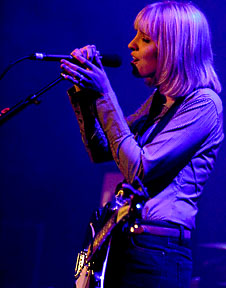 but exceeded expectations in an aggressive amalgamation split equally between the influence pool of Radiohead's electro-centered material, early U2 and The Police's punk-tinged tones, packed alongside members' own ambitious merger of spastic percussion, pounding pianos and intriguing programming.

"Typical" was presented in its normal working order this go around, but still defied convention by bouncing between ethereal atmospherics, exploding crescendos and vocalist Paul Meany's electrifying stage presence. Within the first three songs alone, the front man switched between the keytar, keyboard and an electric guitar, a rotating tradition that continued throughout the band's blistering 75-minute set. "Chaos" also quickly lived up to its namesake thanks to spacey electronics, explosive drum patterns and all out eccentric instrumental abandon, which segued into the similarly clothed, yet to be recorded cut "Clockwork."

The anthemic "Control" was reminiscent of U2's early years and was certainly capable of filling stadiums, amplified even further by furiously blinking fluorescent lights and eight video screens with feverishly flashing image montages. A unnamed jam session included a triple teamed drum segment over distorted drum pedals, falling somewhere in between Blue Man Group and something found on Radiohead's Kid A. The instrumental "Reset" could've set well with fans of that very band's Amnesiac, while "Peculiar People" sounded like something from The Police's classic Synchronicity sessions on steroids. Yet Mute Math was still an original entity all its own, backed by Meany literally doing back flips over his keyboard (all while playing) with drummer Darren King peering over him on the same stand, beating a kick drum like their was no tomorrow.

Such a spectacle made openers Eisley look incredibly plain and uneventful, though to that act's defense, the female fronted indie rockers provided an intelligent spread of angelic acoustics and highly textured alternative indie pop. The band also had its fair share of fans, likely chalked up to tours with Coldplay and Snow Patrol, plus the August release Combinations (Warner Brothers), most of which was performed with soft spoken, shoe gazer style, full of sophistication while beyond members' teenage status.