Story and file photo by Andy Argyrakis

The relationship between Stevie Nicks and WTTW's famed "Soundstage" series was further fortified with the Fleetwood Mac front woman's first taping of her very own episode. But prior to stepping up to the solo filming plate, the laced adorned gypsy of sorts previously appeared on a full band special and served as special guest on Lindsay Buckingham's broadcast. Though she certainly tipped her hat to prior collaborations, the mythical singer/songwriter ,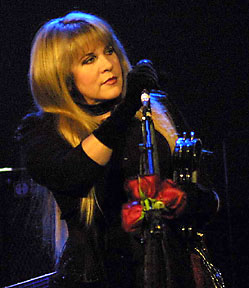 also unloaded much of her fiery solo arsenal during a nineteen song show, which aside from airing on television, is also slated for DVD.

This appearance is one of many for Nicks since her spring CD release Crystal Visions (Reprise), a comprehensive career retrospective that exhaustively addresses her own material, several Fleetwood tunes and even a Led Zeppelin cover. She started out the blistering set on her own high heels with the guitar charged sounds of "Stand Back," complete with her signature twirls during the elaborate bridge with her lacy shawl spinning wildly. Indeed Nicks has evolved into a fashion icon all her own since the 1960s and it's a trademark that's stuck with her ever since, but she also packed plenty of substance beyond merely those trend setting styles.

"If Anyone Falls In Love" took advantage of her high harmonies with a trio of background singers, while a magical take on "Sorcerer" was riddled with her unmistakable and surprisingly well preserved wails. Nicks also dusted off the Mac's mega-smash "Dreams," sharing a story about writing it in Sly Stone's black velvet-adorned studio. She later emerged with similarly textured costuming (in an evening that featured several outfit changes), while also unveiling her infatuation with Bonnie Raitt's "Circle Dance" (an earthy tune about the road's toil on families, performed with guest Vanessa Carlton).

Though far less enchanting of a duet partner than Buckingham, Carlton also sat behind the piano for the new ballad "The One," though it was one of the more pedestrian affairs of the evening. A cover of Dave Matthews Band's "Crash" also fell flat, simply because Nicks' voice is so much better suited to more stylistically parallel remakes or her own feisty material. That fact was confirmed on a revamped version of "Rhiannon," extended with updated instrumentation to strip away its previously dated effect.

Of course, Nicks' velvety touch was also welcome during the band's signature songs "Landslide" and "Sara," the latter of which is rarely performed, but based on an impassioned audience reception, should become a permanent fixture. A take on Tom Petty & The Heartbreakers' "I Need To Know" achieved equal attention in rock n' roll contexts, further showcasing the songstress' versatility and continued confidence even at 59. And speaking of recent birthdays, this taping marked the official kick off for the fifth season of "Soundstage," slated to air in early 2008. During intermission, an announcement was made signaling a future taping with Matchbox Twenty and the promise of a full forthcoming calendar, though for complete details on upcoming sessions and airdates, log onto www.wttw.com/soundstage.