Story and photos by Kate Seesholtz

Newcomer Pato Margetic brought a soulful energy as he performed at the concert series leading up to the Final Four championship games in Detroit on Saturday. Margetic's smooth voice brought to mind the styling of Robin Thicke and Justin Timberlake. He sang from his heart, with lyrics that were honest portrayals of his life. There were songs of past heartbreak and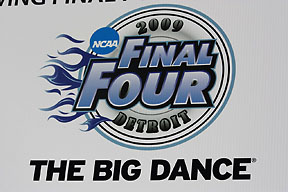 lost love, to hilarious stories of growing up with his best friends in the suburbs of Detroit.

Margetic warmed up the crowd with his own acoustic version of "Sitting on the Dock of the Bay," followed by the heart wrenching "Give Myself to You," a song filled with the hopes of long distance love. As his band joined him on stage he brought the crowd to their feet with "Grindin'," an upbeat number with a strong bass line and even stronger sex appeal. He wrapped up the hour and a half set with his song "Run," a feel good number about his time spent living in California, running on the beaches of Santa Monica, a welcomed image as the cold wind blew outside.

Pato Margetic's charm was infectious as he joked with the crowd in between songs. As the set winded down you could tell the audience had quickly fallen in love with the charismatic singer. To discover Pato Margetic for yourself, visit www.PatoMusic.com.