Story by Andrea Jenels
Photos by Joe Hargreaves

Have you ever wondered what kind of musician you might have turned out to be if you would have pursued jazz band or orchestra after high school and college? Or what it would be like to spend an evening in Ricky Ricardo's dinner club in an episode of I Love Lucy? For any true band geek at heart, Pink Martini embodies all the elements of a multi-cultural buffet for even the most distinguished of musical palettes. The 12 diversified members play a wide range of instruments including piano, violin, harp, trumpet, trombone, guitar, upright bass, and a variety of percussion instruments,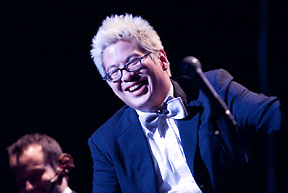 (some of which the likes have never been seen unless you have been to Turkey or Lebanon).

The audience at the Pabst Theatre in Milwaukee on Monday night, were perhaps a little over dressed for the occasion in mostly black tie attire, and the mood seemed a little pretentious as the middle aged crowd sipped Cosmopolitan martinis (on special for the evening) but once the band took the stage all apprehensions were lost. The opening instrumental piece launched the audience into a crescendo of instruments showcasing all their worldly abilities. Lead singer China Forbes' smooth voice wonderfully served each ethnically inspired song to follow. One of the crowd favorites was the French "Je ne veux pas travailler" (I Don't Want to Work) an original composed song off their debut album Sympathique. "Hey Eugene," off of their latest studio effort (with the same title), which has been a crowd favorite for years, kept the audience buoyant with its' witty lyrics about a boy and a girl who fall in love for the night at a party in New York City, resulting in a heart broken girl singing out to the boy who never did call as promised. Another highlight was Paloma Griffin's solo on the violin towards the end of the night. He captivated the crowd with an intense awe-inspiring canticle that showcased his deep emotional understanding that shone through his fingertips. Included in the night's set was the upbeat Arabic "Bukra wba' do", and the eerily captivating "Lullaby."

Founded by classical trained pianist Thomas M. Lauderdale in 1994, the original 4-piece line-up met its match when Lauderdale was introduced to the undeniably charismatic China Forbes while attending the same college. Both coming from ethnic backgrounds, they shared their love of worldly rhythms and vintage melodies. Pink Martini soon formed into a 12 piece ensemble (of which everyone has studied multiple languages). They soon developed into a romantic ideal of a specific era in music and all that it embodies. Forbes' take on the classic, "Tempo Perdido," originally sang by Carmen Miranda in 1934, was as inspiring as it was exotic. From Latin to French, American to Turkish, this avant-garde classical/pop band transports listeners to all corners of the globe with their uniquely in vogue sound.