Story and photos by Joe Hargreaves

Stretched across the stage obstructing the preparations of the enormous event to come was a bolt of red fabric, behind which, silhouetted figures scurried about setting the stage for The Polyphonic Spree. The crowd erupted in applause when shears pierced the bottom of the bolt cutting upwards what would soon be recognized as the shape of a heart, and out peered Tim DeLaughter - Spree's lead vocalist/music director. Cut completely, the banner fell to the floor and the stage exploded with lights and symphonic orchestration.

Former members of the fallen Tripping Daisy venture, Tim DeLaughter, Mark Pirro, and Brian Wakeland; along with anywhere from 7 to 20 varying others, form The Polyphonic Spree. Generally consisting of a choir, a percussionist, a drummer, a pair of keyboardist, guitarist, bassist, flautist, harpist, violinist/violist, French horn player, trumpeter, trombonist, a pedal steel player,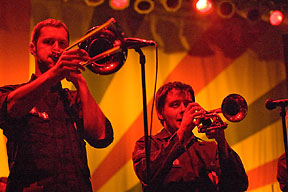 Drawn towards the experimental compositions of 70's progressive rock, which DeLaughter loved as a child, The Polyphonic Spree tap into their own sunny symphonic sounds of hope and happiness. Dropping their traditional white robes that were part of their act since their inception The Spree now opt for toned-down black battle fatigues as their unifying garb. Their appearance may have changed but their saccharine message of love remained intact. Between lyric beltings DeLaughter paced the stage like a caged cat interacting with all members of his pack, smiling and swaying with them to the vibe they were grooving. The infectious charisma of the entire band spilt over into the audience and immediately the crowd was caught up in celebrating the triumphant victories they hadn't yet realized they've won - battles over love, unity, self-esteem, social injustices of today and fear and uncertainties for tomorrows.

The first set wrapped up with the band in single file leaving the stage as the audience continued the chant "all in good time, raise our voices." Having shed their fatigues and going back to their robes, they started a procession that circled the audience and then serpentined their way through the bleachers shaking and high-fiving hands as they lead themselves back to the stage for the encore, as well as the surprise birthday celebration of their violinist.

A spectacle that must be witnessed first hand to fully appreciate the magnificent production called The Polyphonic Spree!