Story and photos by Jennifer Bronenkant

Despite the promise of rain, a few thousand turned up to enjoy some great music and food at the first annual Rock The Green Music Festival held in Veteran's Park on the Milwaukee lakefront. Billed as the Midwest's first near-zero waste music festival, every effort was made to hold an event that would leave the smallest footprint possible. Proceeds from the event were split between two worthy local organizations: The Urban Ecology Center and The Park People.

Title sponsor Veolia Environmental Services staff was on hand with color coded waste containers instructing festival goers on which bins to put their waste in ensuring that everything that could be recycled would be. InSinkErator was on site grinding all food waste to be recycled as Milorganite by the Milwaukee Municipal System which will then returned to the parks for use as fertilizer.

All festival goers were given reusable water bottles which were filled for free with municipal water at fresh water stations. No plastic water bottles were sold on site.

The festival was powered by a combination of biodiesel generators and solar energy along with power generated by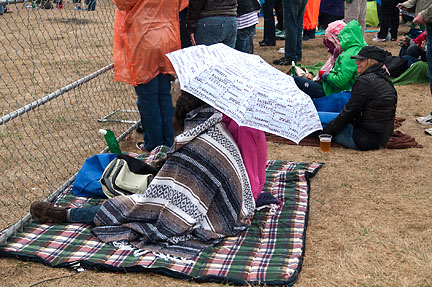 people riding stationary bicycles. Attendees were encouraged to take public transportation, car pool or bike to the event. Organized bike rides were arranged from several city locations and a free bicycle valet was available at the festival to take care of the bikes.

One of the best parts of the sustainability effort was the Farm to Fork program. All of the food sold was locally-sourced or organic whenever possible. Restaurants and food sellers such as the Bartolotta Restaurant Group, Outpost Natural Foods and Chipotle Mexican grill offered a wonderful array of tasty food. I enjoyed a gouda on grainy bread grilled cheese that was served with with a side of orange marmalade. The unusual combination was surprisingly good. Sprecher Brewing Company even brewed a special Rock the Green amber beer for the event.

Even the event t-shirts were recycled. Goodwill Industries provided clean used t-shirts which were screen printed with the event logo and sold for only $10 each. The great array of styles and colors made souvenir shopping more fun than standard festival merchandise.

Under cloudy skies with cool temperatures, the music started at 11:00 a.m. with a short sets by local singer Evan Christian and Virginia rock band Parachute.

Michelle Branch took the stage next saying as an Arizona native she she had to bundle up from the Milwaukee cold but she certainly warmed up the audience with her engaging personality. Performing with her guitar and accompanied by one guitarist, Branch won over the crowd with a mix of older songs along with new material from her latest album Loud Music.

The energetic Fitz and the Tantrums really got the party started with their high energy music and performance. Led by cool cat Fitz and fired up by vocalist and tambourine player Noelle Scaggs, the Tantrums soulful music lit the audience up. This six piece band is a powerhouse and a must-see live show.

Ben Folds stepped up to the piano and played four songs before the rains came which prompted him to break out in Burt Bacharach's "Raindrops Keep Falling on my Head." He expressed concern about the piano getting ruined with the rain and it was covered with a tarp so he could continue playing.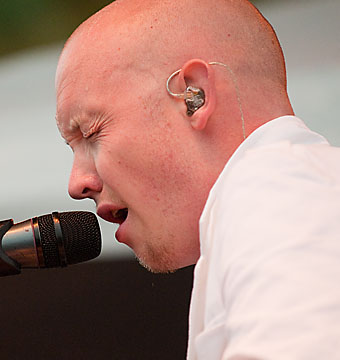 The rain was blowing sideways right on to the keyboard so he finally gave up on the piano and stood and told jokes, sang accapella and led crowd sing-alongs. At one point, a drum set was brought out that he banged out a set on. Folds gave an entertaining and often funny performance under some pretty grueling circumstances.

The Fray's set was delayed as the crew tried to set up the stage to deal with the rain which by now had totally soaked the stage. They set up three tents on the stage for the back of the band and wrapped almost everything in plastic and tarps. I don't think anyone would have blamed them if they had called it but with loyal fans huddled up in the rain waiting, the crew squeegeed off the floor one more time and the band took the stage. After singing an opening song, lead singer Issac Slade jumped off of the stage into the pit and greeted fans. He did this twice. Kudos to The Fray for their loyalty to their very stalwart, and in this case a maybe a little crazy, fans by performing a solid set when anyone with good reason could have refused to take the stage.

Milwaukee festival goers are a hardy bunch as was proved once again by this year's crowd that stuck it out through some very miserable weather to make the inaugural Rock the Green a success. The event organizers did an excellent job of recruiting quality sponsors and solid musical acts along with educating the public on sustainability in a fun way. Hopefully, next year's event will be even more successful and maybe even get a little help from Mother Nature.

For more information, visit www.rockthegreen.com, www.parkpeoplemke.org and www.urbanecologycenter.org.