Story and photos by Andy Argyrakis

The band may not have recorded a full-length CD in nearly a decade, but the Van Halen saga continues to be so entertaining that fans can't help salivate for the next soap operatic episode. Though David Lee Roth is currently in the band's driver's seat with Eddie, Alex and now Wolfgang Van Halen bringing up the rear, the alternate faction on the road these days is Sammy Hagar and Michael Anthony, appropriately christened The Other Half. That package may not be selling as many tickets (since the brand name will always move more money than the sum of its parts), but the potent pair could easily rival the other incarnation- at least for those with an affinity towards the Van Hagar era.

But no one can knock Sammy any more than Dave for continuing to dust off the classics in concert,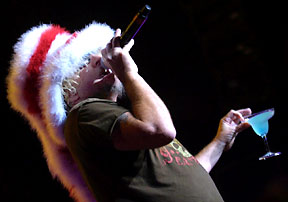 since after all, Van Halen possesses one of the most impressive stadium shaking catalogues of the past three decades. And in the intimate, ornate and acoustically flawless confines of the sold out Rialto Square Theatre, the energy was so intense it could've blown the roof off the recently restored building. Even at 60, Hagar is turning up the party meter to full force on this fall's tour, which despite bordering on questionable, Jimmy Buffett-level cheese at times, turned in two hours of unmistakable memories.

The evening actually started with Anthony taking center spotlight as bassist/ring leader behind Mad Anthony Express, a recollection of Van Halen's first Roth-fronted days (including "Running With the Devil," "Light Up the Sky," "Bottoms Up," and "Show Your Love"). Though Diamond Dave is currently cranking out some of those same tunes at this very moment, Anthony was an almost equally important factor within the original rhythm section and he didn't miss a lick either as a player or singer during this spirited segment.

From there The Red Rocker emerged with the Wabos, touching on his solo days via the fist pumping "There's Only One Way To Rock" and the carousing "Three Lock Box." Yet the house truly came down twenty minutes later for The Other Half segment, during which Hagar and Anthony traded yelps and rumbles through several Van Halen highlights. Roth loyalists would've probably turned up their noses at the more commercial leanings of those sounds, but Hagar enthusiasts ate up every word of "Good Enough," "Why Can't This Be Love" and "Top of the World."

Hagar also served as part time bartender on multiple occasions (along with three scantily clad models), often handing out drinks to fans down front and those housed behind the band on the stage's risers. On one hand, his spirited attitude helped carry over familiar favorites like "I Can't Drive 55" and "Heavy Metal" with a genuinely enjoyable glow. However, one couldn't help but wonder if the drink peddling, summertime theme and songs like "Mas Tequila" were also subliminal advertisements for his Cabo Wabo Cantina in Mexico. Regardless of his intentions, the fact that Van Halen's "Right Here" was omitted or the somewhat limp acoustic finale of the band's "Dreams," the extensive evening still delivered much of what was promised in both solo and group contexts. And based upon the raucous audience reaction for the latter material, Hagar and Anthony are certainly up to par should they ever get asked back to join Eddie's constantly shifting but still enduring endeavor.