Story and Photos by Andy Argyrakis

If a cat is said to have nine lives, Carlos Santana and his eponymous band of rotating musicians must have claws growing in their blood because they keep coming back, even amidst changing musical trends. Though the fiery players and their figurehead first rose to fame in the late 1960s thanks to a performance at the original Woodstock extravaganza, the troupe has steadily shifted with the times, earning an impressive popularity resurgence in the late 1990s (thanks to collaborations with Rob Thomas, Dave Matthews and Michelle Branch to name a few) that's continued through today.

All anyone had to do was look around a sold out Allstate Arena to see a multi-cultural audience spanning retired hippies to their teenage children and everyone in between. Of course,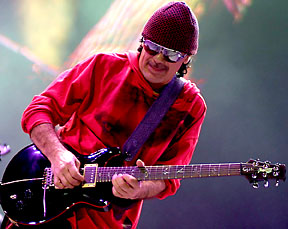 the anchoring force behind all the attention remains the guitar slinger Santana himself, who even without the star power of past projects on stage, had no trouble holding everyone's attention from the opening chords of "Jingo." The famed instrumental may have been a golden oldie that dated back to 1969's self-titled debut, but it was packed with sassy strums, percolating percussion and a synchronized light show that it by far surpassed several of today's most popular jam bands.

While the next two and a half hours were packed with improvisational licks and spontaneous solos, Santana didn't over extended any track to excessive degrees (like so many younger acts hoping to revitalize the psychedelic era). In fact, the wordless outpourings were outnumbered by several streamlined singles, many of which were lifted from his latest disc Ultimate Santana, which culls together all career periods regardless of the record label. The recent "Corazon Espinado" was an early example of the act's ongoing Latin-pop appeal, while the hip-hop flavored hit "Maria Maria" demonstrated a more street savvy approach.

As the evening progressed, so did the band's propensity to showcase its musical chops, with a back to back rendering of "Black Magic Woman" and "Gypsy Queen" roaring with incredibly impressive fret board action. "Oye Como Va" was a much shorter selection tailored for the radio faction of his fan base, but was clearly the runaway party anthem of the experience. Yet "Smooth" followed as a close second, the comeback track that swapped original duet partner Thomas for a background singer who interjected a more soulful flavor within the sonic salsa. Between those sheer celebrations and his unsurpassed technical abilities, Santana's signature sound remains a cornerstone of pop culture, likely to find additional revivals well into the ages to come.