Story and Photos by James Walker

Unlike the frigid temperature hovering around zero outside, it was hot and steamy inside the Checkerboard Lounge for the weekly Hyde Park Checker Jazz set this past Sunday. Saxman Ray Silkman and his veteran bandmates kept the temperature sizzling all night long.

Dispite the cold weather, the "diehard" smooth jazz fans were not deterred as they ventured out to enjoy the sultry and hot sounds of one of Chicago's favorite contemporary jazz performers. This relative small but enthusiastic Checker Jazz crowd was not dissappointed as Silkman, keyboardist Demby Littlejohn, bassist Paul Richmond, and drummer Hamisi Jackson royally entertained the appreciative audience for three exciting hours.

This writer has reviewed Silkman many times over the years, but it's been several years since he's seen the before mentioned bandmates and Silkman performing together as a unit. Most of them have played together for almost fifteen years and it was very evident on this evening how they maintained that cohesiveness.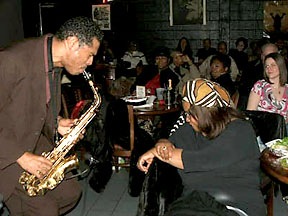 Their smooth melodic changes were very seamless, even though it was apparent at times that Silkman was making changes "on the fly". This didn't seem to inhibit the group at all. They didn't miss a beat all night long.

The first set started with a beautiful version of Roberta Flack's "Feel Like Making Love." Delby Littlejohn had an extended solo in addition to Silkman's smooth playing. Things got very hot next as Ray brought the "heat" with the late Art Porter's "DB Blue." Littlejohn immediately discarded his jacket and swung into action. He again displayed his dynamic skills on the 88s while Silkman did the same with the alto sax.

They slowed the tempo down on their rendition of the Isley Brother's "Groove with Me." Silkman and Littlejohn beautifully complemented each other while engaging in friendly "bantering." "So Saxual", a song written by Littlejohn and recorded on Silkman's Sound Check CD was next. This is a beautiful tune that deserves more recognition and perhaps needs to be recorded again by this group. Obviously, Littlejohn excells on this number along with Silkman. This song brought the crowd to their feet with a rousing ovation.

The next to last number of the first set was the merging of "The World is a Ghetto," "My Favorite Things", and "My Funny Valentine." Ray is sooooooo smooth on this number as he seamlessly pulls this together without missing a beat. His energy level on this selection is remarkable and it's apparent that these guys are really having a great time. The first set was concluded with a very nice rendention of "Girl from Ipanema."

With this night's gig being entitled a "pre valentine day set,"during intermission, the dashing Silkman provided each lovely lady with a "Valentine" hug. Naturally, this met with the delight and approval of all. Additionally, the Jazz Society provided roses for each lady in the house.

The second set began with "Cannonball" Adderley's "Mercy Mercy Mercy." How appropriate for a saxman of Silkman's calibre to pay homage to the late great "Cannonball."

One of the many hightlights of the evening was the appearance of sultry vocalist Andrea McNeal. This writer had never seen her perform and she really dazzled the crowd with her version fo Gladys Knight's "Neither One of Us." What a spectaculiar talent with such a robust voice. She simply "wore" this song out and had the audience begging for more. Unfortunately, she only sang one song but left a lasting impression on everyone.

Perhaps this song ignited Silkman and the crowd because this "gig" suddenly turned into a foot tapping, hand clapping, finger snapping party. These guys were on automatic control at this point as they jammed on Errol Garner's "Misty," Earth Wind and Fire's "Reason" and Grover Washington's "Mr. Magic." At that point, many members of the audience were out of their seats "dancing the night away." That included The Jazz Society's Vice President Charlie Thomas, and Event Producer Carolyn Albritton. It was a sight to behold. Those not dancing were moving heads, necks, feet or some body part. This turned out to be a grand party. It was also during this segment that bassist Paul Richmond and drummer Hamisi Jackson had an opportunity to display their skills on extended solos. Richmond, a veteran sideman who has never received the recognition that he so truly deserves, also is a prolific studio music producer.

What an evening of exciting music! Silkman and his accomplished bandmates were at their collective best. That enabled the warm crowd inside a few hours of relief from the horrendous frigid weather that Chicago was experiencing on the outside. These guys were "cooking"all night long. They entertained the crowd with uptempo numbers, ballads, R&B, Blues, Juke Joint and of course Jazz tunes. It really didn't matter what they played, for tonight, Ray Silkman and his ensemble were "on top of their game" from start to finish.

Next week's set should be exciting as "Lady Sax" Diane Ellis performs on the Checker Jazz stage. For detailed information about future sets, please refer to their website at www.checkerjazz.org.

Check out great Chicago jazz happenings at JazzChicago.net