Story and photos by Andy Argyrakis

In a season that continues to be diminished by commercialism and clamoring for all the best bargains amidst insane check-out lines, it's refreshing to find a traditional throwback to Christmas celebrations of yesteryear. In musical realms, those customs often include tossing on CDs from Nat King Cole, Johnny Mathis and Bing Crosby, plus famed jazz/soul cats like Duke Ellington, Ella Fitzgerald and several of those genres' other visionaries.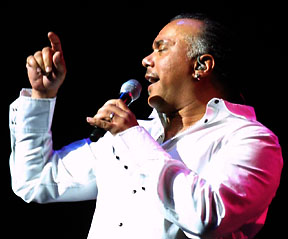 Though trombone player/keyboardist/composer/arranger Brian Culbertson may be cut from a contemporary version of that cloth, he kept in step with those classic intentions during his second annual outing in support of A Soulful Christmas (Verve), backed by a classy arsenal of singers and multi-instrumentalists.

Culbertson's wide influence pool was on display throughout a two act show laced with holiday sounds that crossed the retro admiration of Maynard Ferguson and Buddy Rich with the funk doused grooves of Earth, Wind & Fire and Tower of Power. He was joined on the eclectic ride by sax man Gerald Albright (Quincy Jones, The Temptations, Phil Collins), vocalist Howard Hewett (formerly of Shalamar), guitarist Nick Colionne (Curtis Mayfield, The Staple Singers), along with guitarist/supporting vocalist Sheldon Reynolds (of Earth, Wind & Fire and Experience Hendrix fame).

The evening kicked off as a joint celebration, will all of the musicians and singers firing up a spirited version of "Joy to the World," which morphed straight into "This Christmas" (with Hewett taking the lead). From there, they all rotated in and out of center spotlight, performing some songs solo and others as a joint effort backed by a remarkably proficient four piece band. Early highlights included Culbertson and Albright's Latin flavored "I'll Be Home For Christmas" and the swanky cocktail lounge swing of "Jingle Bells" (with Culbertson impressively switching between keyboards and trombone).

Of course, the laid back nature of some selections also borderlined on sleepy, such as Culbertson and Albright's sluggish take on "Deck the Halls" and the former's slightly plodding solo piano interpretation of "The Christmas Song." In fact, these less than stellar moments leaned much closer to smooth jazz yawns than the aforementioned pep, but thankfully those drop offs were few and far between. Several additional holiday rebounds included Culbertson's original "All Through the Christmas Night" (with Hewitt subbing for the album's duet partner Michael McDonald), plus the funk infused encore "Rudolph the Red-Nose Reindeer."

Culbertson and company also highlighted several songs outside the holiday arena, which helped give the show several extra shots of variety. Albright delivered his breezy "Bermuda Nights," Hewitt serenaded the crowd with Shalamar's "This Is For The Lover In You," while Colionne produced a lower register rendition of Brook Benton's R&B staple "Rainy Night in Georgia." Yet the true show stealers were a full ensemble tribute to Ray Charles via "Georgia On My Mind" (carried by Albright's sultry sax) and a vibrant Earth, Wind & Fire medley of "Let's Groove" and "September" (pairing together Reynolds and Hewitt). No matter what the format, the multi-artist bill helped transport attendees away from their seasonal concerns and cares in favor of several musical memories, generally steeped in cozy and comforting contexts.