Story and photos by Andy Argyrakis

On Spiritualized's latest effort Songs in A&E (Sanctuary), either front man Jason Pierce wanted to mix up the bluesy/gospel formula of 2003's peeled back Amazing Grace or come back with a more lush, celebratory affair after almost dying from complications with pneumonia. After catching the group of ever shifting musicians in concert behind the album, perhaps his intentions mirrored both hypothesizes, strung together by a full-blown space rock foray into the supernatural, backed by particularly passionate delivery.

Though the disc's been out since spring, its seen a steady momentum build thanks to the band's incessant touring and continuously confident execution of the sounds contained therein. A summer stop at the Pitchfork Music Festival certainly embodied the players and two background vocalists' enthusiasm, though this repeat trip through town seemed even more cohesive, if only for the fact that a steamy,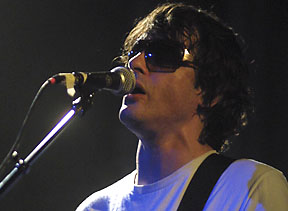 outdoor park setting was replaced by the Metro's acoustically inviting club confines.

Tracks like "Shine a Light" and "Oh Baby" found fuzzy guitars colliding with icy harmonies and eerie electronics, while the more subdued in comparison "Lay Back In the Sun" shined with a brighter, more melodic light into the career spanning set list. New cuts like "Sweet Talk" and "Soul On Fire" fully encapsulated Spiritualized's soulfulness, while the last album's "She Kissed Me (It Felt Like a Hit") showcased a much leaner though still scalding blues-tipped throwback. Add in the distortion-triggered experimental jams like "Come Together," and everyone from the Velvet Underground to Nick Cave & the Bad Seeds (or even his offshoot act Grinderman) would be flattered, if not downright proud.

Beyond merely the songs themselves, Pierce was a force to be reckoned with as a showman, snarling in front of the microphone one moment, offering a tripped out guitar solo the next and then jarring his neighboring pedals to conjure up additional recklessness. But those bouts of pent up frustration were brilliantly juxtaposed with a lean but efficient backing choir, the same two female singers from the Pitchfork appearance who weaved their R&B flavoring within the indie rock intensity. No matter what the musical demeanor or who the members are at this point, Spiritualized is a remarkably riveting entity capable of transporting the listener/viewer into an inspirational galaxy free of artistic limitations and common rock n' roll conventions.