Review by John Halverson
Lucinda Williams photo by Joe Hargreaves
Joe Cocker & Susan Tedeschi file photos by Andy Argyrakis

Three singers with sandpaper voices and crossover appeal rocked Summerfest this year. - Joe Cocker is the lion in winter - his twitchy stage presence a thing of the past but his growl wonderfully intact. - Lucinda Williams brought a road-weary grit to her performance which was as searing as it was skittish. - And Susan Tedeschi, sweet-faced and bland two years ago, now seems to be veering too far in the opposite direction.

None are youngsters. Cocker is in his mid-60s. Williams is in her mid-50s and looks worse for the wear. Tedeschi is 37, except for her hands which were seemingly traded with the devil for a pair that appear much older but play audacious guitar. All seem at different stages of their careers. Cocker doesn't appear to be the least bit uncomfortable opening for Steve Miller,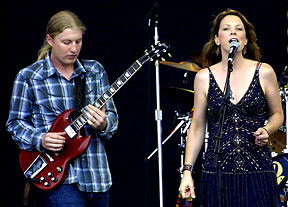 who would have opened for him years ago. He didn't need to apologize for singing "Hitchcock Railway" and "She Came in Through the Bathroom Window" almost note-for-note like he did in his "Mad Dogs and Englishmen" heyday almost 40 years ago. Familiar or not, songs like those and "You Can Leave Your Hat On," had white-haired women flailing around like teenagers. And the under-50 crowd, which knew Cocker from his bland "Up Where We Belong" period, seemed bowled over by his savage power. He can still howl. He can still growl. He showed up on time and gave three encores. After all that, Steve Miller seemed like the student following the teacher.

Lucinda Williams, on the other hand, looked like she had closed too many bars on her long road to stardom. As a friend of mine said, "I just wanted to run a comb through her hair." But in the black magic mix that only a certain brand of music can evoke, the fact that she looked and acted like she just got out of bed - or never made it there - only seemed to add to the ambiance. Rightfully angered by a the volume of a nearby stage, Williams junked her acoustic set, appeared to be walking off the stage and then brought in her entire band for a blistering hour and a half of rock-tinged blues that only stopped when the public address system announced that Summerfest was closing. Adding to her scathing voice was guitarist Doug Pettibone, who outshone the more storied Derek Trucks, Tedeschi's main man, by mixing his licks with Williams' voice to make an instrument all its own. There was a rawness to Williams that can't be taught or learned. Perhaps, that's a lesson the third act in our carnival - Susan Tedeschi - ought to take to heart.

I reviewed her when she performed at Summerfest two years ago and was under-whelmed. I love her voice and many of her records. But she's always had an image issue. Her early CDs, where she shared billing with a band, were heavy-handed blues. Then she reached a degree of popularity with a more soulful sound and a more wholesome image. Now, back fronting a band again - this time headed by her husband and lead guitarist Derek Trucks - Tedeschi is bringing on a harsher sound again. I think there's a great vocalist somewhere in the middle that she's yet to find. Too often she too easily gave center stage to Trucks' guitar - which was technically brilliant but seemingly devoid of honest emotion. As a result, we heard less than we should have of her own inspired guitar work. Just as important, we heard none of her own more soul-based songs. It was a cacophony of big sounds and vocals that sounded like wannabe Williams but lacked genuineness. Maybe Tedeschi ought to heed the words of that old sage, Ricky Nelson, when he said: "Ya can't please everyone, so ya gotta please yourself."

So there you have it-Cocker, Williams and Tedeschi. All share a musical style that blends blues and rock. All can bring it in their own ways. Cocker the professional. Williams the bad girl. Tedeschi the talent still finding herself. All at different career stages, their paths crossing at Summerfest 2008. Being the "world's largest music festival" may be hard to prove, even faint praise. But this year, as it does every year, Summerfest brought together the lake, brats, thousands of wildly diverse people and great performers at life stages as varied as our own.