Story and Photos By Andy Argyrakis

Outside of the Star Plaza Theatre in Merrillville, there have been very few reasons to cross the Illinois line into Indiana for entertainment, that was of course until Bette Midler baptized The Venue at Horseshoe Casino in Hammond. The Divine Miss M sold out the 2,500 seat theatre in just three minutes, though she's far from the only A-lister swinging through the aesthetically and acoustically impressive hall this fall (see below).

On opening night, the singer/movie star not only drew an adoring public, but also a vast list of celebrities hoping to roll the dice downstairs, including actor Matthew Modine (Stanley Kubrick's "Full Metal Jacket"), actress Tara Reid ("American Pie"), indie rocker Josh Kelley (who closed the evening with a set at the neighboring Skyline Stage), plus various cast members of Bravo's "The Real Housewives of New York City,"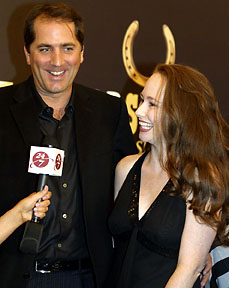 along with folks from FX's "Rescue Me" and "Damages." Even so, all eyes were on Midler throughout a sterling (if somewhat brief) 75-minute set that provided an intimate glimpse into the gargantuan personality that's currently overtaking Las Vegas' Colosseum At Caesars Palace.

Clearly the run in Sin City has kept the 62-year-old entertainer sharp, and despite being in show business over four decades, she still possesses a sly blend of sincerity and sarcasm. All of Midler's career facets and genre explorations were on display (backed by three dancers and over twenty musicians), from the swinging swank of "In the Mood" to the Rosemary Clooney cover "Tenderly" and the beautiful ballad "From a Distance" (which remains chillingly timely as the war against terrorism rages on).

The concert's most colorful segment featured a trip through Midler's most notable soundtracks, including her nod to the ultimate chick flick "Beaches" via the Randy Newman written "I Think It's Going to Rain Today" and a radiant rendition of "The Rose." Surprisingly, much of the punchy "Gypsy" was left out of the mix, though a "Beaches" reprisal for the breathtaking "Wind Beneath My Wings" allowed these omissions to be overlooked.

Of course, a Midler concert wouldn't be complete without tons of stand-up comedy and she obliged with laugh out lines like "Hammond you look divine and so do I" and "Indiana's just like Chicago, but without the sales tax." Besides hitting the nail on the head when it came to this particular place, chances are The Venue (backed by mammoth concert promoters AEG Live) will be giving the Windy City a run for its booking money in the not too distant future.

For additional information at The Venue at Horseshoe Casino, visit www.thevenue-chicago.com. Upcoming concert highlights include: Stone Temple Pilots/ Thursday, August 14th; Lynyrd Skynyrd/ Friday, August 15th; Billy Idol/ Saturday, August 16th; Alice Cooper/ Tuesday, August 19th; KEM/ Thursday, August 21st; Jay Leno/ Friday, August 22nd; Liza Minnelli/ Saturday, August 30th and Alicia Keys/ Saturday, September 13th.