A royal treatment of mesmerizing music
Tedeschi Trucks Band
Orpheum Theatre
Phoenix, AZ
November 14, 2017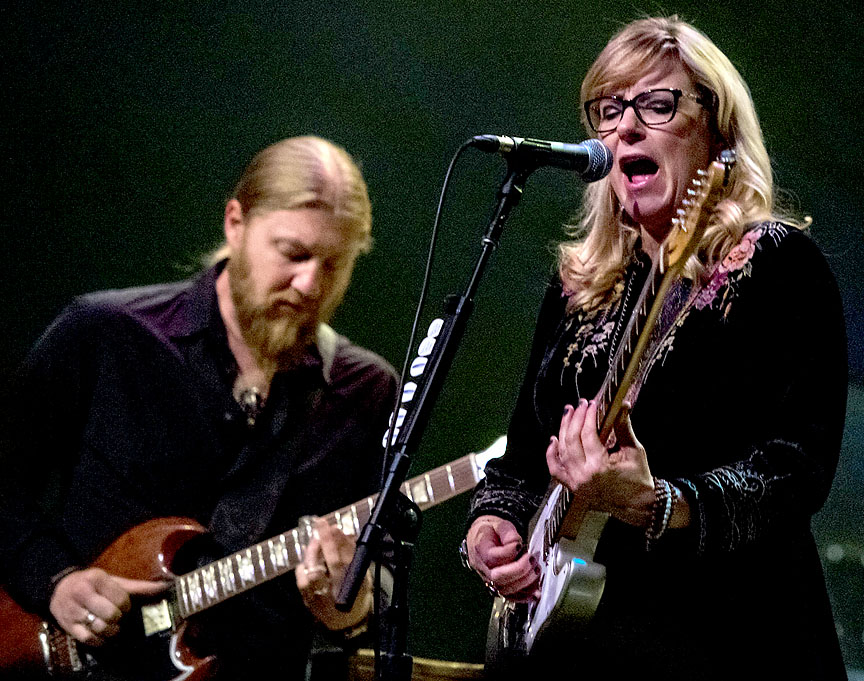 Tedeschi Trucks Band
Review and photos by Frances Sealy

Phoenix seems to be a regular stop for Tedeschi Trucks Band during their Fall/Winter tour these days. Phoenix got a double dose of their royal treatment on November 14th and 15th and it was like a religious experience for those fans who attended the show. The theatre felt like a revival juke-joint.

The band has become very stable over the last few years and their compatibility is amazing. Susan Tedeschi is the lead singer for the band. She is an extremely powerful, passionate, and confident singer and guitar player. Her amazing talents seem to improve with each concert experience. Her guitar and vocals are something to behold. One of the highlights of the set was when she put the guitar down and sang a new composition, "Shame," from their upcoming new album release. Tedeschi commands and deserves the accolades given to her these days.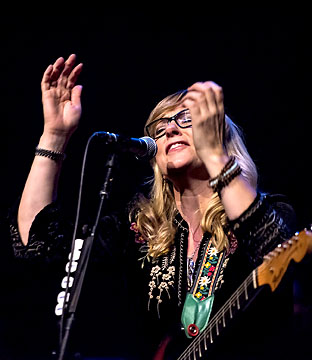 Derek Trucks did not speak or sing during their performance and he seemed to be quite happy in the background. Looks are deceiving. Trucks' guitar does all the talking and his language is mesmerizing. Trucks delivered some of the best finger picking and slide guitar I've ever seen.

Mike Mattison was the former lead singer of the Derek Trucks Band and co-founder of the band, Scrapomatic. Mattison shares some of the writing credits for the band. Mattison had one song in the front of the band singing "Anyday" with Tedeschi.

Kebbi Williams, Ephram Owens, and Elizabeth Lea are the horn section for the band. They give the band their jazz, blues, and rock sound. Williams' improvisational sax on "Don't Know What It Means" was an inspirational tome. Owens displayed an innate ability to improvise with the band. Elizabeth Lea's audacious trombone added to the soul of the band.

Kofi Burbridge is a multi -instrumentalist provided keyboard support. Burbridge's awesome flute dueled with Trucks' guitar during "Soul Sacrifice." There was the drum solo with Tyler Greenwell and J.J. Johnson that was infectious. Bassist Tim Lefebrve reveled in a telepathic connection with the two drummers. He stayed on the back end of the stage behind Trucks during most of the show.

Alecia Chakour and Mark Rivers were the remaining two background singers whose vocals seamlessly blended with Tedeschi. There was an air of relaxed cohesion between all of the band members that led to such a great combination of musical talent.

TTB presently performs some 200 dates a year and somehow they manage to keep their performances fresh and alway innovating. That is what keeps their faithful fans returning every year.

Austin based band, The Greyhounds, were the show openers. The three-man band played drums, keyboards, and guitar. The blues band gave the gathering crowd a solid set in preparation for TTB.
Set List:
1. Rollin' and Tumblin' (Hambone Willie Newbern cover)
2. Do I Look Worried
3. Don't Know What It Means
4. Anyday (Derek and the Dominos cover)
5. Ball and Chain
6. Part of Me
7. It's So Heavy
8. Shame
9. Don't Think Twice, It's All Right (Bob Dylan cover)

10. Anyhow
11. How Blue Can You Get? (Johnny Moore's Three Blazers cover)
12. Let's Go Get Stoned
(The Coasters cover)
13. I Want More
14. Soul Sacrifice (Santana cover)

Encore:
15. Bound for Glory



Related articles:
Tedeschi Trucks Band - Concert review - Scotsdale, AZ September 2016
Tedeschi Trucks Band - Concert review - Tucson, AZ December 2013
Tedeschi Trucks Band - Concert review - Milwaukee, WI September 2011
Derek Trucks & Susan Tedeschi (Eric Clapton's Crossroads Guitar Festival) - Festival review - Toyota Park, IL July 2010
Derek Trucks & Susan Tedeschi (Eric Clapton's Crossroads Guitar Festival) - Festival review - Toyota Park, IL July 2007
Susan Tedeschi - Concert review - Milwaukee, WI July 2006
Susan Tedeschi - Back to the River - Album review
Susan Tedeschi - Hope and Desire - Album review
| | | |
| --- | --- | --- |
| Tedeschi Trucks Band | Tedeschi Trucks Band | Tedeschi Trucks Band |
| | | |
| --- | --- | --- |
| Tedeschi Trucks Band | Tedeschi Trucks Band | Tedeschi Trucks Band |
| | |
| --- | --- |
| Tedeschi Trucks Band | Tedeschi Trucks Band |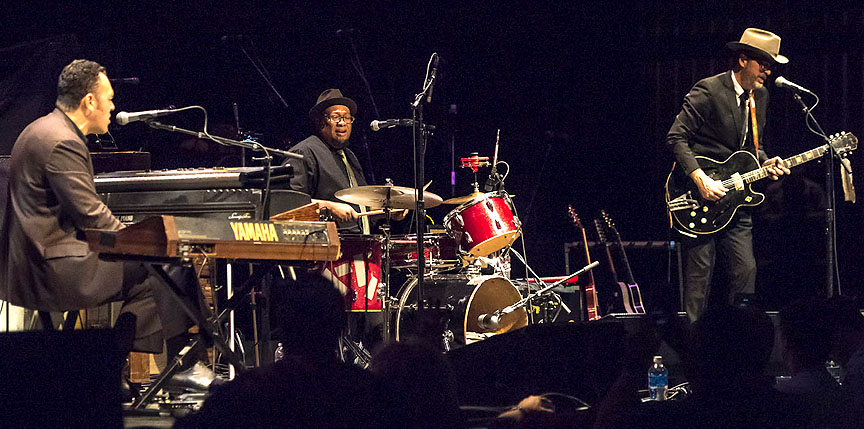 The Greyhounds
Return to Reviews
Return to Livewire
Copyright © ConcertLivewire.com™; All Rights Reserved