Story by Andrea Jenels
Amanda Roslansky

Conor O'Brien is the type of guy you're going to hear a lot about in the coming future, and for all of the reasons any songwriter should be noticed; talent and strength of material. Usually when you call someone a singer-songwriter it takes on the connotation of a coffee house Jack Johnson type act. A witty, feel good lyricist. Conor isn't. There's an inherent tension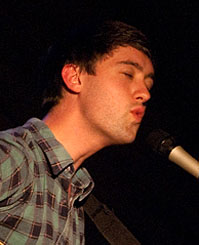 < in his work, it's a bit of a high-wire act you could say. Being a writer who wears his heart on his sleeve, his work is a bit of an emotional investment. Upon listening to the Villagers debut album (Becoming A Jackal, 2010 Domino Records), one might find themselves holding their breath until the very last moment of each song. The emotional imagery of his lyrics combined with the melodic backdrop of guitars makes the balladry of his music comparable to the likes of a young Paul Simon crossed with the vulnerability of Elliot Smith.

Villagers graced Milwaukee with that very presence Thursday night, (Villagers consisting of Conor O'Brien and his curiously small guitar), for the opening night after party for the third annual Milwaukee Film Festival. The event held at Discovery World on Milwaukee's lakefront was perhaps the perfect venue for O'Brien to showcase his talents. His 45 minute set gave a glimpse into the Irishman's unabashed and emotionally honest music. With lyrics like (My love is selfish/And I bet that yours is too/What is this peculiar word called truth), it was easy to lose oneself in the melancholy storytelling of this rising star. Fresh off the Mercury Prize nomination list, Villagers have potential to grow and perfect the of art of storytelling through music.