Story and photos by Andy Argyrakis

Even if the members are never classified as "cool," there's something perpetually inviting about the entire Weezer experience. Maybe it's the foursome's ability to relate to the average guy and girl without pushing images of perfection, perhaps it's a generally infectious catalogue that's infatuated with the 1950s (but timeless nonetheless) or it could be the players' sarcastic sense of humor. Despite wavering in the studio on occasion (such as the recent Red album seeming a bit tired), there's no overlooking excellent efforts like the group's self-titled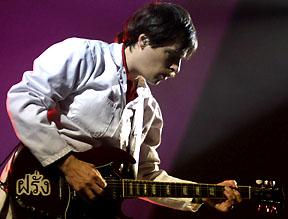 Blue debut or its follow-up Pinkerton.

Indeed the '90s were on display in full force, starting with the cult classic "My Name Is Jonas," though the group isn't resting on the same old formulas when presenting these golden melodic oldies. Instead, front man Rivers Cuomo took a back seat on lead vocals, allowing drummer Patrick Wilson and bassist Scott Shriner to take turns on each verse. That trend would continue on many occasions throughout the evening cementing Weezer as a full band effort rather than a single personality, though it didn't matter who was singing come anthems like "Pink Triangle, " Perfect Situation," "Hash Pipe" and "El Scorcho" because the crowd overpowered the band.

The new "Pork and Beans" didn't quite ignite a storm of equivalent electricity, but beat the brightest of everything from the lackluster new disc. The nervous tempo shifter "Dreamin'" and album opener "Troublemaker" fell flat, while a pre-recorded playback of the ballad "Heart Songs" (on a bright red portable record player in between encores) was unneeded filler. Even with these lulls, Wilson stepped up to the microphone and Cuomo switched to drums to deliver a blazing cover of Oasis' "(What's The Story) Morning Glory," while Tom DeLonge (singer for opening act Angels And Airwaves) was a welcome addition during "Undone- The Sweater Song."

Surprises kept popping up in the encore, which revolved around a several dozen member hootenanny comprised of Q101 contest winners playing various instruments. Even with the randomness, the vast backing troupe added extra enthusiasm to "Island In the Sun" (complete with an impromptu oboe solo from one of the guests) and "Beverly Hills" (rounded out with a smoldering sax). As the core four closed out the night with the immortal "Buddy Holly," it was apparent Weezer's glorious geek rock origins overpowered its newer alt-pop offerings and are precisely what keeps today's teens and the young at heart coming back for more.