Story by Andrea Jenels
Photos by Joe Hargreaves

Black leather jackets and sunglasses, check. A stage filled with smoke and mystique, check. Trippy light show complete with enough strobe lights to cause seizures in the faint of heart, check. Black Rebel Motorcycle Club seemingly had all the elements of a true psychedelic post-punk rock band, except for one very important element, momentum. They opened the night with a lengthy guitar-driven intro that left fans ready to delve into a hard core space rock adventure. Instead they were left waiting, wondering, and teetering on the brink of shoegaze exhaustion.

With the original lineup once again intact, the livelihood of BRMC was prominent and despite some minor technical difficulties, the band fed off each others' vibes and launched into an all-out assault in both visual and audio aspects. Fast flowing songs such as "666 Conducer," "Berlin," and "Weapon of Choice" (all off of 2007's Baby 81) hurled the audience into an energetic melee. Both Peter Hayes (guitar, synth, harmonica, and vocals) and Robert Levon Been (bass, piano, and vocals) remained angst-ridden while switching off the lead vocals between them. Peter Hayes relished in the folk/Americana songs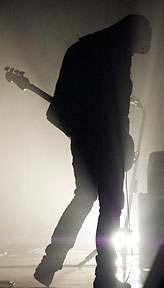 complete with harmonica (which wasn't properly mic'd causing him to rip it off during "There Ain't No Easy Way Out") and eventually delved into three acoustic solo songs in the middle of their set. This confusing interchange followed Robert Levon Been's shoegazing/noise rock anthems that slowly built in clamor but resulted in an anticlimactic muddle at what could have been the rock-n-roll pinnacle of the night.

After trading solo spots, Levon Been and Nick Jago (drums) departed the stage leaving Hayes alone for the three acoustic numbers. Whether one takes it as a compliment or insult, Hayes was reminiscent of a Bob Dylan/Bruce Springsteen type of Americana that even though seemed a little awkward in timing, it was still inspiring. As Levon Been and Jago reconvened on stage, BRMC once again launched into a crescendo of heavy guitars and drum mania. One highlight was toward the end of the show when Robert Levon Been treated Milwaukeeans to a brand new undisclosed track simply stating "This is a new one." Although the energy and effort was present throughout the show, Black Rebel Motorcycle Club (perhaps inadvertently) left the crowd lacking in fervor.

The opening guests for BRMC produced the opposite effect upon taking the stage. London based, The Duke Spirit, were as enthralling as they were lasting. Lead singer Leila Moss comes off as a soulful and intriguing cross between Debbie Harry and Nico. She embarked through the nautical themed set only to get stronger and more endearing with each song. Switching between various percussion instruments Moss's soulful takes on shoegaze was never drawn-out into a lengthy noise-rock spectacle. The Duke Spirit were eager to please their American fans and not at all hesitant to play songs off their second and latest effort, Neptune. The eerie echoes and charismatic chorus during "The Step and The Walk" left the crowd feeling as if they might have been transported back to the late 60's with it's overall catchy Mod/Pop vibe. The five piece Garage band have proved to be an act worth catching with their collection of songs about hope and heartache.