Story and Photos by Matt Schwenke

Seeing DeVotchKa perform in Milwaukee was certainly more than just a group of musicians playing upon a stage-- two scantily clad females first appeared to glitter the stage before dancing with their silhouettes cast upon the stage backdrop and eventually twirling from sheets of cloth hanging from the ceiling Cirque du Soleil-style. But to label DeVotchKa a novelty act would simply be wrong-- the strange blend of folk, rock, Romani, Mariachi, and a host of other musical styles the band stirred up was both embracing and just as hard to turn away from as the aerialists maneuvering above the stage.

Based in Denver, DeVotchKa's worldly sound most notably received critical acclaim for their contributions to the score of the 2006 film "Little Miss Sunshine," and were only a handful of shows into their world tour in support of the 2008 release A Mad and Faithful Telling when performing in Milwaukee.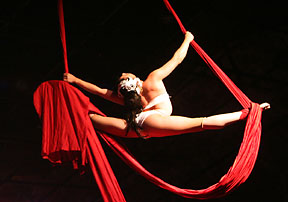 Built upon a rock architecture that is adorned with a host of odd instruments for rock-- accordion, sousaphone, trumpet and violin, as well as the eerie warbling of a theremin-- the end result is a timeless, gypsy sort of sound that is far from classical music.

The majority of the set culled from the new album though the band did play many off their 2006 release How It Ends, which features some of the tracks used in "Little Miss Sunshine" and arguably some of their best tunes. Standouts from the new album included the percolating rock of "The Clockwise Witness," and the Latin foot-shuffler "Undone," while the Mariachi strut (and trumpet played by drummer Shawn King) of "We're Going Home" and the heartstring-pulling sways of "How It Ends" stood out from the 2006 release. Reaching varied states of howl and harrowing falsetto, singer Nick Urata's voice was a unique instrument all its own, particularly in "Twenty-Six Temptations" and "Along the Way." With Jeanie Schroeder commanding the low end, Tom Hagerman alternating between violin and accordion, and groups of strings besides, DeVotchKa often rose to grand, mysterious heights, as in a cover of Siouxsie and the Banshees' "The Last Beat of My Heart" and an encore performance of "You Love Me" (with aerialists), but at times the band seemed to pull back the reins precisely when they were reaching their most compelling points of the show. But the want for more in this case isn't a bad thing-- some extra sections of improvisation, some thematic interludes or connections between songs, and maybe a few more spots for the dancers, and DeVotchKa will be playing for an ever-increasing audience.

Also sure to find greater audiences, opener Basia Bulat was a surprising mix of country, folk and pop as she tours in support of her 2007 release Oh, My Darling. Opening her own set with a solo vocal offering, the Canadian autoharpist and guitarist had the crowd's attention before picking up an instrument, and with her band joining her on stage, Bulat was rousing in her country-leaning "In The Night," and soothing in her cover of Daniel Johnston's inspiring folk song "True Love Will Find You In The End."