Story & photos by Jennifer Bronenkant

Farm Aid took the 2012 show on the road to the sweet spot of Hershey, Pennsylvania. Nestled in the rolling hills of the state and surrounded by a long tradition of family farming, this year's event had no problem attracting 30,000 people to sell out the show. The crowd was treated to a perfect fall day with temperatures reaching 80F and fluffy clouds rolling through giving intermittent shade in the bright sunny day.

In its 27th year, this grand daddy of fundraising concerts is very like a giant family reunion with many of the audience returning every year to share in the festivities with founding board members Willie Nelson, Neil Young and John Mellencamp along with newer board member Dave Matthews. Although the headliners are all huge stars, even legends, there are no rock star attitudes at Farm Aid. The performers all seem to revel in the relaxed family atmosphere of this festival giving a sense that everyone is part of one big family.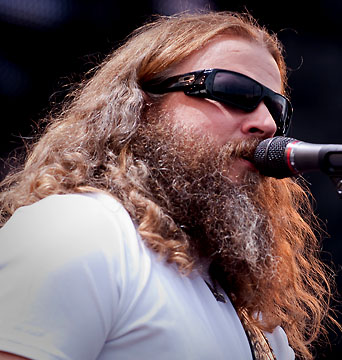 This kinship makes for a great musical experience for everyone there, including it seems, the performers.

The music lineup this year had something for everyone, from classic honky tonk to new country, folk to rock and young to old. Friendship and collaboration was a big part of the day as various artists joined in on other's sets often across genres like when rocker Grace Potter joined country singer Kenny Chesney. Many of the performers spoke of Farm Aid's missions during their sets keeping the focus on the reason for the event without overdoing it.

Willie Nelson opened the day then quickly turned the stage over for short sets by classic country artist Dale Watson, California indie band Animal Liberation Orchestra (ALO) and rocker Pegi Young who was joined by husband Neil for part of her set.

The usually powerhouse performer Lukas Nelson, Willie's son, started out his set in an uncharacteristically mellow seated acoustic performance. He opened with "Forever Is A Four Letter Word," which was originally an electric rocking number. His continued growth and experimentation as a performer was evident on this day. Towards the end of his set he strapped on the electric guitar and brought out his band Promise of the Real and the high energy flying blues rocker emerged to the crowd's delight.

Traditional country artist Jamey Johnson brought his full band to perform an amazingly tight set where he owned the stage like never before. Johnson's voice has always been powerful in live shows but the strength of this performance showed an incredible growth in the last year. The half hour set included his hit "High Cost of Living" along with "He's Got You" from his upcoming Hank Cochran tribute album and "Give It Away" which he wrote for George Straight. Maybe all the time he has been spending with Willie has grown his confidence. Whatever it is, it is a very good thing.

Rocker Grace Potter and her band the Nocturnals got the crowd really going with her dynamic set.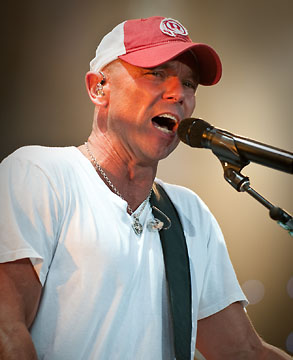 Her leggy good looks and hot sweaty rock and roll most certainly earned her many new fans in the crowd. She was joined on stage by Willie Nelson and his harmonica player Mickey Raphael for "Ragged Company."

In contrast to the preceding high energy performance, Jack Johnson entertained the crowd with his mellow but upbeat pop. The audience filled with Johnson fans swayed and sang along with the entire set.

Another big audience favorite, contemporary country star Kenny Chesney took the stage next. The proliferation of girls wearing the "new country" uniform of sun dresses with cowboy boots made it obvious who they were there to see. He gave them what they wanted with a set of some of his most popular songs including "You And Tequila" which he sang with Grace Potter.

Dave Matthews took the stage next along with fellow DMB member Tim Reynolds for an acoustic set. The pair started off with "Grave Digger" and moved on through several favorites from his large catalog. The easy going set with Matthews's emotional singing and Reynolds incredible guitar playing created a presence on stage that was considerably larger than the two parts alone.

John Mellencamp brought the energy back up opening with "Authority Song" and continuing on with many of his greatest hits, all of which were made before a large group of the audience was born. He was joined by Kenny Chesney for "Small Town." Mellencamp's voice has deteriorated noticeably over the last couple of years, leaving him with a seemingly permanent hoarseness not unlike Bob Dylan's current voice, but he remains a charismatic performer. The age in his voice actually worked well with some of the songs, particularly his closing number "Longest Days."

As the roadies added additional speakers and amps to the stage, one had to know that the crowd was in for classic Neil Young and Crazy horse intensity. Young along with his long-time on-and-off backing band created a righteous noise so loud and explosive the music was as much felt physically as heard. The guys all looked like they were having the time of their lives, even usually stern faced Young was smiling and laughing. The jam included "Country Home," "Ramada Inn," and "Mr. Soul" before Willie Nelson returned to the stage to join Young for "Homegrown." Young and the Horse finished with an extended "Like A Hurricane" that was so loud and powerful it created the sense that an actual storm was blowing through the stadium. It was an amazing thing to experience.

Willie Nelson and Family along with his kids Lukas, Micah, and Amy and granddaughter Raelyn closed out the night with classic Nelson numbers such as "Whiskey River" and "Still Is Still Moving." When the music turned to gospel, many of the day's performers returned to the stage to join in the spirited finale. Nelson led the crowd on stage in singing his recent hit which he calls a new gospel song, "Roll Me Up." to close out another successful Farm Aid concert.



Farm Aid: More than a music festival



Farm Aid, a non-profit organization started in 1985, was intended to be a one-off fundraising event to offer crisis aid to farmers who were losing their land and businesses in record numbers.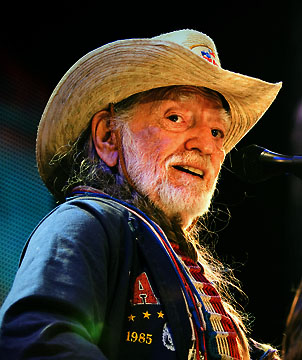 As family farms continued to disappear, Farm Aid grew to become an organization that works tirelessly throughout the year as an advocate for family farming and promoting the good food movement as well as running a support hotline to assist family farmers. During crisis times, such as recent droughts, it does additional fundraising and works with other farm advocacy groups to help farmers survive with programs such as hay drops.

A pre-show press conference kicked off the day and featured a panel which included board members Willie Nelson, Neil Young, John Mellencamp and Dave Matthews along with Jack Johnson and local farm advocates and farmers who discussed Farm Aid's mission of supporting family farming. The panel delivered a strong focused message of the mission of Farm Aid.

In a year that has seen extreme weather and drought for much of the country, Congress tabled reform discussions and the vote on the Farm Bill renewal until after the election. Awareness of the plight of the small farmer and support through law making and even by consumers buying locally is needed as much ever. The board members spoke of the Good Food Movement as a populist movement whose time has come as more members of the general public have grown concerned with the availability of good healthy safe food. Neil Young expressed his opinion that we need to bring young people back to farming saying, "We have to convince kids that the real future of America is to rebel, to be a farmer. It's a mission from God."

The Farm Aid festival began at noon, a couple of hours before the main stage acts started, in the Home Grown Village adjacent to the stadium. This education focused area featured agriculture related demonstrations such as composting, heirloom seed saving and growing mushrooms. This year, for the first time, the Home Grown Village featured a live music stage where Brent James and the Contraband got the entertainment started.

As it has for the last few years, the Farm Aid experience features great locally grown food such as barbecued pork chop sandwiches, pulled pork, organic jalapeno corn dogs and fresh squeezed lemonade, and of course, lots of cold beer.

For more information, visit http://www.farmaid.org.